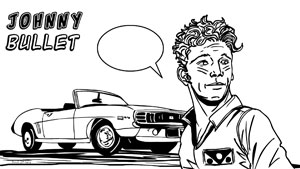 More Comics
Shadowman #0 Review
By Andy Frisk
May 19, 2013 - 21:38
Publisher(s): Valiant Entertainment
Writer(s): Justin Jordan
Penciller(s): Roberto De La Torre and Mico Suayan
Inker(s): Lewis LaRosa and Neil Edwards
Colourist(s): David Baron
Letterer(s): Rob Steen
Cover Artist(s): Dave Johnson, Khari Evans, and Lewis LaRossa

Nicodemo and Sandria Darque were born different. Raised by their father to channel, deal in, and eventually master dark magic arts, the two would become powerful sorcerers. Evil runs deep in the Darque family though, and the brother and sister find themselves tools with a means to an end...and the power to affect the outcome of that end.

Set in the early 19th Century on, in, and around a Louisiana plantation,

Shadowman

#0 tells the origin story of Nicodemo Darque, the future Master Darque, and his sister Sandria. Theirs is a tale of childhood lost, powerful dark magic, and trechery. Writer Justin Jordan paints a complex and slightly sympathetic character in Nicodemo Darque and a fully sympathetic one in Sandria Darque. Their young lives are a twisted mockery of a a normal childhood. It is not without its tender moments, but is filled with much more dark and treacherous moments. Moments that will define the character of one of Valiant's most frightening and interesting villains. With all the dark New Orleans-ish gothic fantasy noir of an early Anne Rice novel,

Shadowman

#0 is a horror comic at its best. More impressively,

Shadowman

#0, along with the regular ongoing series, manages to interweave dark fantasy and magic based characters into a traditional superhero universe seamlessly. Something that both DC Comics and Marvel Comics have had trouble doing for years in their titles and shared universe.

Artists Roberto De La Torre, Mico Suayan and Lewis LaRossa and Neil Edwards bring this frightening tale to starkly spooky life with their heavy lines and grim shading. They manage to recreate a dark and dusty Louisiana plantation filled with an atmospherically dense and dread ridden life. With only splashes of red (often only used to relate the presence of blood) here and there to break the gloom of the grays, blacks, ghostly whites, and dark greens,

Shadowman

#0 is a dark and frightening experience visually.

Another masterful entrance into the already amazing library of new Valiant books and titles,

Shadowman

#0 is another one that will stand the test of time as a work of sequential art, and be heralded as one of the most important issues of the new Valiant U.

© Copyright 2002-2019 by Toon Doctor Inc. - All rights Reserved. All other texts, images, characters and trademarks are copyright their respective owners. Use of material in this document (including reproduction, modification, distribution, electronic transmission or republication) without prior written permission is strictly prohibited.