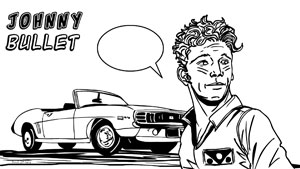 Knowledge and Scholarship
Who's Who - Scott Reese
By Hervé St-Louis
August 7, 2012 - 14:44
Scott Reese joined ComicBookBin in February 2007 and wrote briefly about many Marvel comics. He was a college student in film and television studies. He wrote just four articles for ComicBookBin and stopped around the same time the mid-session terms happened and spring break was upon us! Writing at ComicBookBin can be cyclical. I know all about it. Every year, around October, November and March, April, I can expect half of the staff at ComicBookBin to just vanish and stop contributing because of school work. Since a lot of writers are college students, that's understandable.

Who's Who @ComicBookBin is a feature celebrating the 10th anniversary of ComicBookBin where publisher Hervé St-Louis features writers past and present that have contributed to ComicBookBin over the years.

© Copyright 2002-2021 by Toon Doctor Inc. - All rights Reserved. All other texts, images, characters and trademarks are copyright their respective owners. Use of material in this document (including reproduction, modification, distribution, electronic transmission or republication) without prior written permission is strictly prohibited.