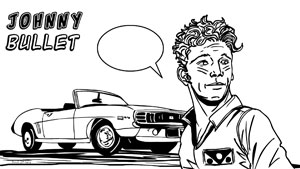 Game Reviews
Review: The Wolf Among Us: Smoke and Mirros
By Sean Booker
February 10, 2014 - 00:04
Studios: Telltale Games
Rating: M (Mature)
Genre: Adventure
Platform: Xbox 360, PS3, PC
Players: 1






Smoke and Mirrors

, the second episode in

The Wolf Among Us

, brings a great deal more mystery and character building to the universe despite being quite short. The episode opens on a great note and the wonderful style and aesthetics continue to help drive the bizarre and dark tones. The story also gets deeper as more questions surface and will easily keep you interested the whole way through. It's sad then to see that Smoke and Mirrors will only last you about an hour and a half - at least it's a good one.

The episode starts off with the usual dark elements we've come to expect from the recent Telltale games. From there it delivers a really great, shocking moment before playing the title sequence. It's a great way to hook you into this new episode while showing off how twisted and weird this world is. Along with that you get a nice preview of this game's style and aesthetics. The title sequence itself has some great music as it introduces you to the game. Throughout the episode we get to see more fairytale folk which is always fun and interesting. Bigby Wolf and the rest of the cast continue to be interesting and enjoyable characters.

The majority of this episode is dialogue trees. Even as far as recent Telltale games go - this one has probably the lowest amount of actual gameplay. This isn't a bad thing considering the dialogue and decision making is where Telltale shines. The story you play through and the questions that come up won't make you miss any of the awkward timing sequences that some previous episodes had. Episode two focuses more on the mystery going on and it'll easily hold your interest for its duration.

This length is the one downside to Smoke and Mirrors. For full completion you will spend around an hour and a half with the game. This is easily the shortest episode we've seen - including anything from The Walking Dead. It's a shame it's so short since it's quite fun. It's odd the length is like this considering how many delays this episode went through and how much time there has been since the first episode. This wait even had me forget a lot of what happened before even with the "Previously On" sequence at the start. The wonderful cliffhanger ending just comes too soon.

From a story standpoint Smoke and Mirrors is well worth your time. It sets up some great questions for the remainder of the season while creating some really great surprises. The same great style is back as you work your way through this engaging mystery. It's really just too bad that this experience ends so suddenly.


© Copyright 2002-2019 by Toon Doctor Inc. - All rights Reserved. All other texts, images, characters and trademarks are copyright their respective owners. Use of material in this document (including reproduction, modification, distribution, electronic transmission or republication) without prior written permission is strictly prohibited.