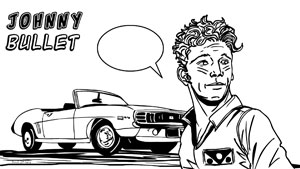 Game Reviews
Review: The Wolf Among Us: Faith
By Sean Booker
October 15, 2013 - 19:29
Studios: Telltale Games
Rating: M (Mature)
Genre: Adventure
Platform: Xbox 360, PS3, PC
Players: 1

After the success of bringing

The Walking Dead

to the video game platform, Telltale Games has easily shown that they know what they're doing with the newly released

The Wolf Among Us

based on the

Fables

comic series. The game plays very similarly to the previous Walking Dead (TWD) series but the motifs and general tone has changed. Along with that, the wonderful art style we had become used to has continued to evolve and a number of small improvements over this customary formula have been implemented. If you were a fan of what the developers did with their last game then The Wolf Among Us is definitely worth your time.





Faith (the title of this first episode in the season) puts us in the shoes of Sheriff Bigby Wolf who is the real world incarnation of the fabled 'Big Bad Wolf' as he helps maintain order in Fabletown. This town is filled with characters you'll be familiar with from popular Disney stories but who are hidden in plain site using magic spells. It's really great when a fairy tale character shows up and reveals themselves. This backstory is quite different than anything we saw in TWD since that was largely a group of people who are utterly lost in a new and dark world. Faith has us taking on a pre-existing environment and slowly fills us in to - literally - all the magic and wonder it possesses. Learning about these characters and this world is quite interesting and it is definitely a nice change to the themes we saw beforehand.

The majority of the gameplay will be the familiar dialogue trees. Like before, the game is heavily focused on player choice and you'll have to make a number of specific decisions throughout this episode. One in particular will even cause you to miss specific scenes in favor of others so the weight of your choice is definitely heavy. I wouldn't say that there are any options you're given in this episode that are as harrowing as what we saw in TWD but this is the introductory episode so I wouldn't expect that.

The rest of the time you'll spend walking through various areas selecting specific objects to interact with. It's standard for any point and click adventure game. One improvement in The Wolf Among Us is the ability to walk faster now. A minor addition but something I found myself very thankful for after a couple minutes in. There are also a few quick-time events throughout the episode that will require you to press buttons or click on specific locations in a very shortly opening. Again, the game has improved in this area by allow more leeway with how accurate you are on your targeting - another welcomed feature.





You'll notice that the game also looks a good deal different despite having a similar artistic style. We see that the hand-drawn, comic aesthetic has returned but it feels improved. The characters and environments seem to be more 'flattened' despite remaining to be polygon models. There is also a much higher degree of contrast and a larger range of brighter colors throughout the game that really sets it apart from TWD. The Wolf Among Us manages to look quite fresh.

Faith is a great opening to the season and easily got me interested in what's to come. The game stays true to the great formula we saw from Telltale Games while also bringing a breath of fresh air to the genre. The world is interesting and the characters are fun to interact with. The Wolf Among Us is a great option for any fans of either TWD game or the Fables comic series and if you're on the fence about it $5 is a great price.
© Copyright 2002-2019 by Toon Doctor Inc. - All rights Reserved. All other texts, images, characters and trademarks are copyright their respective owners. Use of material in this document (including reproduction, modification, distribution, electronic transmission or republication) without prior written permission is strictly prohibited.