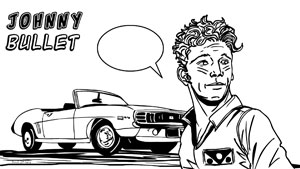 DC Comics
Review: Savage Things #7
By Andy Frisk
September 13, 2017 - 23:49
Publisher(s): DC Comics
Writer(s): Justin Jordan
Artist(s): Ibrahim Moustafa
Colourist(s): Jordan Boyd
Letterer(s): Josh Reed
Cover Artist(s): John Paul Leon

Psychopaths are highly manipulative in addition to being completely cold and emotionless. They are great deceivers and writer Justin Jordan makes excellent use of his psychopathic special ops team members to excellent dramatic affect in the 7th chapter of the highly cinematic and engaging

Savage Things

. Everything that you thought you knew about Cain and Able is wrong and some people are more than at first thought...and just as manipulative.



Revealing what is hinted at in the paragraph above would be a travesty, even if this review is being written post

Savage Things

#7 publication. Let's just say that writer Justin Jordan did a good job hiding the true natures and motivations of some of the characters as well as doing a good job of misdirection. In hindsight, the revelations seem a bit obvious, but I was sufficiently fooled, most likely because I was wrapped up in the stark horror of the coldness and nigh inhumanity of most of the characters, and now one in particular.

Ibrahim Moustafa continues to be brilliant and absolutely perfect in every way for this series. There's little that I can add to what I've said about his art in the previous 6 reviews I've done of this series, but I continue to stand by each and every one.

The only question now, even more so than "what happens now?" is "when does the

Savage Things

movie go into production?"





© Copyright 2002-2020 by Toon Doctor Inc. - All rights Reserved. All other texts, images, characters and trademarks are copyright their respective owners. Use of material in this document (including reproduction, modification, distribution, electronic transmission or republication) without prior written permission is strictly prohibited.