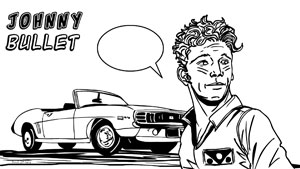 DC Comics
Review: Savage Things #3
By Andy Frisk
May 3, 2017 - 10:03
Publisher(s): DC Comics
Writer(s): Justin Jordan
Artist(s): Ibrahim Moustafa
Colourist(s): Jordan Boyd
Letterer(s): Josh Reed
Cover Artist(s): John Paul Leon

The most disturbing and action packed series from DC Comics' Vertigo imprint in years,

Savage Things

is the best read right now from the publisher.



Cain and his crew of psychopaths are close to getting the city to tear itself apart. Multiple attacks happen across the city at once, but Able manages to get himself and his partner/handler a step ahead of Cain, but will it do any good? Is Abel capable of doing any good or is all this a revenge ploy on his part, city be damned? It's hard to tell, but it's pretty obvious that there is a deep history between Cain and Able, as Jordan shows in another horrifying flashback to their early days at the Black Forest project. Jordan has excelled with supernatural horror stories, but here the horror is all too natural and that makes it even more frightening.

I'm still blown away by Ibrahim Moustafa's art. It's detailed and kinetic enough to brilliantly move the narrative along at breakneck speed while drawing the reader into this highly realistic and gritty world with a sense of visual normalcy that is unsettling given the subject matter. His artwork is as sublime as Jordan's writing is here. It's simple, yet transcendent and awe inspiring both at once.



Savage Things

is a great read. Simple and direct, yet filled with nuance and horror of a totally different type. I haven't been this creeped out by a realistic psychological horror made viscerally violent through its imagery since the late Jonathan Demme's

The Silence of The Lambs

.

© Copyright 2002-2020 by Toon Doctor Inc. - All rights Reserved. All other texts, images, characters and trademarks are copyright their respective owners. Use of material in this document (including reproduction, modification, distribution, electronic transmission or republication) without prior written permission is strictly prohibited.