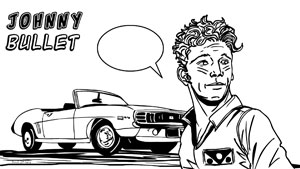 Comics Movie Reviews
Review: Marvel's The Avengers Age of Ultron
By The Marvel Movie Maniac
April 30, 2015 - 13:31
Writer(s): Joss Whedon, Stan Lee, Jack Kirby
Starring: Robert Downy Jr, Chris Evans, Mark Ruffalo, Samuel L. Jackson, Paul Bettany, Scarlett Johansson, AaronTaylor-Johnson, Elizabeth Olsen, Jeremy Renner, Don Cheadle, James Spader, Cobie Smulders, Chris Hemsworth, Idris Elba, Anthony Mackie
Directed by: Joss Whedon
Produced by: Marvel Studios
Running Time: 141 min
Release Date: May 1st, 2015

Our heroes are back and they're the same dysfunctional family they were their first time out. With the fate of the world at stake (again), they have to come together and thwart the ultimate "world at peace" weapon developed by some well meaning, but tragically flawed members of their own ranks. They say it takes a village, but sometimes it takes a godly sacrifice to provide the key to thwarting the extinction of all men.



So let's get right down to it. Marvel Studios has made some of the highest grossing, highest quality, and most enjoyable superhero films of the last decade. Some have been better than others, and some have been more serious than others, with

Marvel's The Avengers

being the pinnacle of all the films.

Marvel's The Avengers Age of Ultron

is pretty far from that pinnacle. The acting is superb. The storyline is better, more thought provoking, and more serious and realistic than the first film's. The new characters are a joy to behold on screen (especially for long term Marvel Comics fans). So why don't you walk out of the theatre with the joy and exuberance that you did after seeing

Marvel's Avengers

?

There are several reasons. First, the dialogue feels forced. While it tried hard, perhaps too hard, to be spontaneously funny there is no scene like the "Hulk punching Thor" gag from the first film (which was one of the best scenes from the film). The fight scenes involve some heavy CGI and two of the main characters, while superbly acted by Taylor-Johnson and Olsen are underdeveloped. Ultron, based off of Tony Stark (Robert Downy Jr's) personality

is

witty, but perhaps too witty. His wit, which Stark is obviously a bit challenged by ("He beat me by one second." responds Stark to one of Ultron's witticisms) makes you cringe when you realize that Stark probably really would have remarked as such. Yes, Stark is a complicated character, as are they all, such is what makes the "dysfunctional family" dynamic of the films work so well, but it's a little too close to betraying the lovable Stark we all have grown accustomed to as the deeply disturbed personality he probably would be if the character existed in the real world. Speaking of wit, There is a major push to inject Hawkeye (Jeremy Renner) with a more lovable Stark-like wit that often just falls flat. Hawkeye is humanized in ways that the character really needed, but the man he is revealed to be totally doesn't jive with his smart ass humor. The final battle scene is a bit predictable, and once again

way

heavy on the CGI. Overall, the film just doesn't elevate your mood like the first one did due to a combination of all of the above.

There is plenty that IS good, at times even great, about

Marvel's Avengers Age of Ultron

though. The budding relationship between Bruce Banner (Mark Ruffalo) and Natasha Romanov AKA Black Widow (Scarlett Johansson) is excellently acted, directed, and developed. The scene where they all take turns trying to lift Mljoir (Thor's enchanted hammer) is probably the best intentionally funny buddy comedy scene in the film. Thor's (Chris Hemsworth) unraveling of a riddle and resolvement of a key plot, moral, and mechanical issue concerning a certain new character through godly intervention and wisdom, as well as admiration for life-human, artificial or otherwise (although Thor isn't technically a god in the Marvel Cinematic Universe) is the kind of intelligent and hopeful storytelling that has endeared the Marvel Universe to millions of fans over the decades. The story itself, which deals intelligently with important philosophical and moral ideas and quandaries and pits the whole philosophical debate between nihilism and positive existentialism front and center, and deals with it intelligently too, is the film's greatest strength.



Heady philosophical ideas, even if watered down for the summer blockbuster crowd, ring hollow though if the film overall rings hollow. Every scene with Captain America (Chris Evans) and Black Widow pops with life, mostly because the memory of last years superb

Captain America The Winter Soldier

is still fresh in our minds, and Mark Ruffalo (perhaps the best actor in the whole group-he's on par with Downey Jr) really deserves (and really could carry) a solo Hulk film. His performance here is not only fantastic, it's actually moving. Combined though, all of the above isn't enough to stimulate the mind, the eye, and the emotions in the way that

Marvel's The Avengers

did.

We cannot expect every Marvel film to be

Guardians of The Galaxy

or

Captain America The Winter Soldier

, but

Ant-Man

had better well be, or Marvel Cinematic Universe fatigue might start to finally creep in.

© Copyright 2002-2020 by Toon Doctor Inc. - All rights Reserved. All other texts, images, characters and trademarks are copyright their respective owners. Use of material in this document (including reproduction, modification, distribution, electronic transmission or republication) without prior written permission is strictly prohibited.