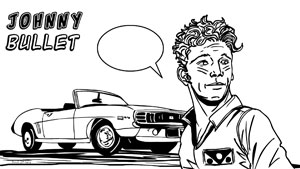 DC Comics
Review: Lucifer (2015) #15
By Andy Frisk
Feb 16, 2017 - 17:35
Publisher(s): DC Comics
Writer(s): Richard Kadrey
Artist(s): Lee Garbett
Colourist(s): Antonio Fabela
Letterer(s): Todd Klein
Cover Artist(s): Dave Johnson

Richard Kadrey (

Sandman Slim

series) is planning on using Arabelle Crane a good bit during his run on Lucifer. The only problem is that Arabelle is, at least thus far, coming off as a knock-off, female version of John Constantine. She's got a troubled past which includes the untimely conjuring of demons, and a history of bi-sexuality. She's smart mouthed and has the type of good looks that are sure to leave a string of broken hearts behind her, and she has dubious dealings with The Devil. Oh, and she's a powerfully gifted mage. Was Constantine just not available for this particular story? Or does Kadrey just feel a little more comfortable writing another character similar to his Sandman Slim (and already established Constantine) one?



I really hate that the similarities between Crane and Constantine are so glaring. They are distracting me from what is shaping up to be a great new chapter in the saga of DC Comics' Lucifer. Kadrey is a talented storyteller and has gotten this new chapter off to a good start. Kadrey is making good use of the characters established by previous series writer Holly Black, and is making interesting, and frightening, use of the new incarnation of The Presence as established by Black in the last story arc. Maybe Kadrey has some new directions that he plans to take Crane in. Hopefully so, because I'd rather read a story with Constantine in it instead of one that uses a knock-off character to the same effect.

Lee Garbett continues to handle the artistic chores on the book and like New Super-Man, Garbett's consistency on the book has helped the title retain a wonderful sense of continuity. I'm glad that with the writing change, Garbett was retained on the series.



Lucifer

still remains one of the best of the Vertigo Comic's line of books and is well worth the read.


© Copyright 2002-2018 by Toon Doctor Inc. - All rights Reserved. All other texts, images, characters and trademarks are copyright their respective owners. Use of material in this document (including reproduction, modification, distribution, electronic transmission or republication) without prior written permission is strictly prohibited.