Another year, another Jackbox Party Pack to dive into with your friends and their phones. Pack 4 brings one sequel and four new games and unfortunately feels like the weakest pack to date. Fibbage 3 continues to be a fun time and the inclusion of the bonus Enough About You option is great. Survive the Internet is a decent riff on humourous news titles and hashtags. Monster Seeking Monster is quite confusing and the most difficult one to play in a low key environment. Bracketeering is the worst game in the pack since it distills the game down to a bracket-style tournament that pits funny answers against one another. Civic Doodle is a decent drawing mini game but pales in comparison to the previous visual gag-focused games we have seen. This year's pack has some amazing sound design and is a fine collection on its own but, held up against the series, doesn't stand out.
The first game is Fibbage 3 and it is easily the best one in the pack. Though it is a sequel there are a couple new tweaks this time around. The first update is the 70s presentation. The visuals and music are all these great looking throwback designs and images that really push forward the silliness of the trivia categories. Enough About You is the next big change and it comes in the form of a sub game inside Fibbage 3 proper. It plays the same but the questions are all based on true and false facts about the other players. Everyone takes turns entering in a couple pieces of information and the rest are trying to fool and guess their way to more points. With this good, personalised twist on the formula, and the aesthetic update to the proper sequel, Fibbage 3 stands above the rest.
The second game is also the second best in the group. Survive the Internet pits different cues to each player and then mixes them up for the rest to try and turn into jokes (similar in structure to Tee K.O. from Party Pack 3). You will each answer a question, the answers are sent to someone else and that person must make a comment, headline, hashtag, etc. in response to your answer. The humor is pretty good here and, again, the visuals and music are really nice.
Monster Seeking Monster is one of the lower entries mainly due to how complicated it is. The goal here is to date different players in order to earn the most points. Each round (six in total which always feels like too many) you have to pick another player and try to convince them to pick you in return. This is done by messaging each other with whatever you want. It turns into silly sexting which can be humorous. One by one each character's monster power will be revealed. This changes who will want to date who and who you should avoid. The game takes a while to get going and easily requires multiple plays in order to understand all the rules. Overall this game just has too much going on which is counterintuitive to what these party games excel at.
Bracketeering is by far the worst game in the group. A prompt will be given to everyone to answer and then a bracket-style tournament is set up between them. Players vote on which answer is better (or funnier) in what ends up being a pretty distilled version of what Jackbox is. The later rounds will mix up the prompts mid tournament which in turn will make your answers sillier and sillier as they get further from the point. There's an uptick to the enjoyment at the end but the game itself is too simple and ends up being boring. It doesn't help that the game's aesthetic is pretty bland as well. A lightning effect loops in the background while the bar charts fly by. I can't see myself ever playing this game again.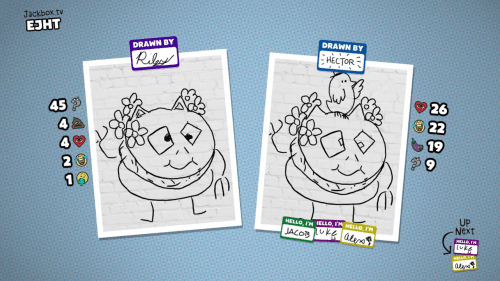 The last game is Civic Doodle and it sits square in the middle for enjoyment. Drawing games are always fun in Jackbox and this continues that trend. Two people will be given the beginning of a drawing and need to continue it. Players vote on their favorite and then that picture becomes the new starting point for two other players to continue with. This happens a few times until the final frankenstein-esque artwork wins. During this the other players can mash different emojis towards either of the current artists which is humorous. The piece is then pasted on an ingame house or wall (as if it was a mural) to comic effect. This game works well since the creations will always look horrible and isn't that why we're all here?
Unfortunately the collection of games in the Jackbox Party Pack 4 just don't stand up to the previous entries. Fibbage 3 looks better than ever and the Enough About You mode is great with friends. Survive the Internet is a decent game as well with a great presentation. Monster Seeking Monster is just far too complicated and takes way too long to finish. Bracketeering is simply a bad game while Civic Doodle does enough to round out the pack to be a net positive. Alone this collection is a decently good time but I don't see myself coming back to it at my next gathering since I enjoy the previous Party Packs so much more.
© Copyright 2002-2019 by Toon Doctor Inc. - All rights Reserved. All other texts, images, characters and trademarks are copyright their respective owners. Use of material in this document (including reproduction, modification, distribution, electronic transmission or republication) without prior written permission is strictly prohibited.