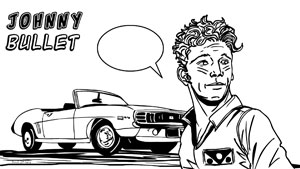 Marvel Comics
Review: Daredevil #595
By Andy Frisk
Nov 8, 2017 - 20:36
Writer(s): Charles Soule
Artist(s): Stephano Landini
Colourist(s): Matt Milla
Letterer(s): VC's Clayton Cowles


It's almost like Charles Soule, J.D. was born to write

Daredevil

. Soule is a practicing attorney in NYC whose firm focuses on immigration, corporate, and entertainment law. So who better to write the stories of the Marvel U's most high profile attorney/superhero? Soule, who studied Asian and Middle Eastern Studies, "with a concentration in Chinese language and history" in undergraduate school (Wikipedia) has utilized his studies, along with is law degree and practice experience, to create some really interesting

Daredevil

stories with more legal drama and insight than we've seen in the long running title then, well, maybe ever. After telling one of the most interesting

Daredevil

stories ever, as far as the legalistic side of the hero's tales are concerned (revolutionizing the legal status of all Marvel U superheroes-and having Matt Murdock argue before, and win before, the Supreme Court), he now plunges into a story that not only mirrors (even after the election results of 11-7-17), but will most likely smartly probe current national politics in America with a story line that trumps (pun intended) the shock of J.J.Jameson's stint as NYC Mayor: a story line with Wilson Fisk in the mayor's office.

A NYC business world mainstay with questionable business practices and sketchy (at least to the Marvel U's public) ties to organized crime and international criminals, who claims to be a populist who is above politics and has little ideological motivation beyond a desire for wealth and self aggrandizement...oh, and who is a malignant narcissist...has won election to the Office of the Mayor. Significantly, he won the election on an anti-hero (or in his and his base's view: anti-vigilante) platform. Now, he has the legal power to make policy against Daredevil, and the rest of NYC's costumed adventurers. One of Mayor Fisk's first moves is to entrap Daredevil/Matt Murdock and have him arrested for taking action to stop an apparent mugging. From there on, the plot proverbially thickens and will do nothing but get more complex and interesting from here on out...that is if I know my Charles Soule storytelling.


It's a brilliant and less of an anti-Trump story than one would think. It's more of a smart exploration of the circumstances that lead up to the election of the Fisk/Trumps of the world, both fictional and real. Soule puts words and ideas in the mouths and minds of his supporting cast characters that cause the reader to think, like when Matt's paralegal tells the story of how her care was destroyed by Spider-Man in a battle with the The Rhino. She couldn't recoup losses on it and, in her own words, who could she sue? Spider-Man? Now she doesn't have a car (which is considered a luxury in NYC "especially on a paralegal's salary") so it's the "bus for me now, or the subway." It's the type of realistic issue that would arise in a realistic superhero story and the type of sharp and insightful, yet incredibly simple, story line plot that fits a series like

Daredevil

and a writer like Soule.

I could spend plenty of more time singing the praises of Soule's work, but I don't want to come off as too much of a fanboy and maintain some objectivity in my review...but, I don't think I would be successful in the latter. Let's just say that

Daredevil

is one of my favorite titles right now and if you like the gritty realism of the

Daredevil

Netflix series, and realistic and smart legal dramas (like the original

Law and Order

series) then you'll love

Daredevil

as much as I. Read it.



© Copyright 2002-2018 by Toon Doctor Inc. - All rights Reserved. All other texts, images, characters and trademarks are copyright their respective owners. Use of material in this document (including reproduction, modification, distribution, electronic transmission or republication) without prior written permission is strictly prohibited.