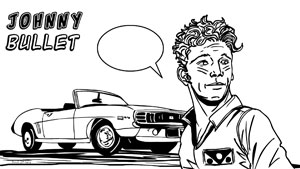 European Comics
Quatre
By Hervé St-Louis
May 23, 2009 - 23:31
Publisher(s): Casterman
Writer(s): Enki Bilal
Penciller(s): Enki Bilal
Inker(s): Enki Bilal
Colourist(s): Enki Bilal
Cover Artist(s): Enki Bilal
ISBN: 978-2203353442
$27.99 CAN, 62 pages

Quatre

(Four) is the last volume of the Nike Hatzfeld story begun in

Le Someil du monstre

way back in 1998 by Enki Bilal. Nike, Leyla and Amir all meet Optus Warhole, whose goal is to explain why they are all related and why he has manipulated their lives. Instead of being three, with Warhole now remade into his original self, they are four. But synthetic doubles of Nike and Leyla are still roaming free and the plots put in motion by Warhole's other self, Rawhole are still in place. Can anything be done to save humanity?



This volume is the most complex of all the series. Not much happens, but answers are hard to understand. There is less plot and action than introspection and questions by the author through the characters. But like I wrote above, the author tries to provide as much answers about Warhole and who or what he is as if he was afraid that he could no longer share this journey with the reader. So while basic plot questions are answered, more questions arise, and as what the author is hinting at cannot be expressed here. It's fortunate that I just read Animal'z which features the same type of existential questions and answers. It almost feel as if this volume was preparing the entrance for

Animal'z

.

But the focus on specific locales is still strong and the theme of religious fundamentalism and what it did to break up the former Yugoslavia and destroy many people's lives still resonate strongly in this tale. If former Yugoslavs, serbs, Croats, Bosnians and all the other nationalities ever need to find a signature comic book series or piece of literature that deconstruct their country, the same way they have deconstructed Yugoslavia, this is the series to do it. Yugoslavia and its successor states are not major countries. Yet, what happened there in the 1990s has affected the balance of power of the world. It seems a bit weird that Bilal would write a story about something that is still changing. Less than a year ago, Kosovo, declared its independence from Serbia.



This story is not for the light reader. It necessitates many readings and familiarity with all the events of preceding volumes to even be able to decipher something. Here the author is changing his way of storytelling in front of our very eyes, going from literal action to post constructivism but without the back and forth and plot skipping elements of other writers like Grant Morrison. He shows that it's possible to write a post constructivist story without having to confuse the readers by jumping above traditional anchor points that allow readers to understand what's happening. It's still difficult reading, but at least, Bilal covers his bases here.

On his way to a new way of storytelling, is the greater place he gives to quotes and the way his work is all greyed out like a progression that will be clearly visible in

Animal'z

. Red continues to be a major colour for Bilal. It means something. It's life for him and its important to understand the symbolism of that colour in his work, in order to understand his work and see how he is evolving as a cartoonist. Colours were probably not themes in and symbols that allowed readers to unlock the narrative of the author, in previous series. In this volume, Bilal seemed to rely on both old painting and charcoal drawings. The combination of few dry brush strokes over the pencil work is interesting, and essential into capturing the evasive form of Warhole. I ask myself if literary critics and art critics will ever develop the lexicon and means to understand groundbreaking work like that of Bilal that prove that comic books have no parallel. It may not be the most interesting read I've had, but it was challenging.



© Copyright 2002-2019 by Toon Doctor Inc. - All rights Reserved. All other texts, images, characters and trademarks are copyright their respective owners. Use of material in this document (including reproduction, modification, distribution, electronic transmission or republication) without prior written permission is strictly prohibited.