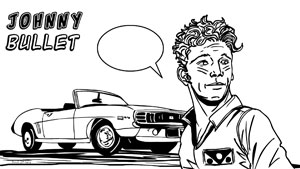 Home Theatre
Prince of Persia: The Sands of Time
By Beth Davies-Stofka
Sep 13, 2010 - 12:29
Studios: Walt Disney Studios
Writer(s): Doug Miro, Carlo Bernard, Boaz Yakin, based on the video game Prince of Persia: the Sands of Time by Jordan Mechner
$44.99 US, $51.99 Cdn
Starring: Jake Gyllenhaal, Gemma Arterton, Ben Kingsley, Alfred Molina
Directed by: Mike Newell
Produced by: Jerry Bruckheimer
Running Time: 1 hr. 55 min.
Release Date: Sept. 14, 2010 on DVD and Blu-ray
Rating: PG13
Distributors: Walt Disney Studios Home Entertainment
Genre: Action/Adventure, Science Fiction/Fantasy and Adaptation

Before you see any super-sized Disney epic, memorize these three handy rules:
1. Never go to movies in which white guys with (sometimes fake) English accents continually slap each other and call each other "Brother."
2. Never go to movies in which the sole black character dies, no matter how heroically. Especially when he is the fastest, the strongest, and the smartest of the lot.
3. Never, but never go to movies that can't decide before the third act that the main character is a hero. Especially since

you

knew that when you paid for your ticket.





Prince of Persia: The Sands of Time

releases tomorrow on DVD and Blu-ray. For those who want to fully indulge, the movie comes in a 3-disc combo pack that includes the Blu-ray disc, the DVD, and a digital copy of the film. With that third option, you can download the movie to your mobile device and watch it anytime you want, or stream it on demand from Disney.

The problem is the movie isn't really very good. I hate to be this blunt, but I can't imagine wanting to see it once, much less wanting to download it and watch it all the time. While it has some good fights, and some good stunts, and some truly spectacular scenery, none of that can distract the viewer from the baroque plotting, agonizing dialogue, and annoying lead characters. And if you've memorized those three handy rules, then you'll know to stay away.

The attempt to recapture the magic of the

Pirates

franchise is obvious. But try to imagine

Pirates of the Caribbean

without Captain Jack Sparrow. Orlando Bloom and Keira Knightley would have been forced to carry the film. In other words, it would have been boring, when it wasn't being ridiculous. That's pretty much what

Prince of Persia

is like: alternately boring and ridiculous. While Gyllenhaal and Arterton have both proven themselves as terrific actors, they can only do so much with the material at hand.



Still, there is always the possibility that the bonus features on a DVD or Blu-ray disc will be so entertaining or so interesting that they can justify the purchase on their own. I'd really hoped that would be the case here, but it's not.

The combo pack offers a trick-sounding feature called

CineExplore

. As you're watching the movie, a dagger leaking sand appears on the screen, and if you like, you can activate it before the sand leaks out and the dagger vanishes.

If you do activate the dagger, it launches a short feature that relates to that particular point in the film. Even more interesting, there are features embedded within features, and you can explore as much as you like. The disc bookmarks your place in each one of the features, so you can return to any unfinished segment right where you left off, or return to the movie.

Now, this would be worth the price of the combo pack, if the features were interesting. Some of the behind-the-scenes shorts are pretty entertaining, especially the "Ostrich Jockey Tryouts." But short films showing us Jake Gyllenhaal performing stunts with wires or Jerry Bruckheimer telling us he's excited about the movie are just not interesting. And I'm having a lot of trouble understanding why anyone thought they would be.

Can I say anything good about this movie? In fact, I can. While it definitely demands a great deal more suspension of disbelief than a normal fantasy film, it doesn't employ any negative stereotyping of Persians or any other Eastern peoples or cultures. Instead, it shows some consciousness of the problems of Empire, particularly in the character of Alfred Molina's Sheik Amar, a small business owner working on the fringes and griping bitterly about taxes. Not only did this provide badly-needed comic relief, but it served to bridge the gap in time between the entrepreneurs of ancient Empires and those of today. It just isn't enough to rescue the film from its grinding mediocrity.






© Copyright 2002-2018 by Toon Doctor Inc. - All rights Reserved. All other texts, images, characters and trademarks are copyright their respective owners. Use of material in this document (including reproduction, modification, distribution, electronic transmission or republication) without prior written permission is strictly prohibited.