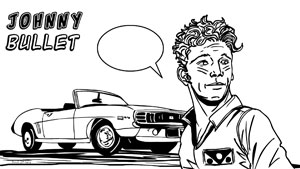 Knowledge and Scholarship
Who's Who - Percival Constantine
By Hervé St-Louis
August 7, 2012 - 17:21
All I can say about Percival Constantine is that he has a name fit for a comic book character! I don't know much else about him as he only submitted two articles in March 2012. From what I've found out about Percival, he is now a comic book writer a novelist and a letterer. Find out more about Percival at http://percivalconstantine.wordpress.com

Who's Who @ComicBookBin is a feature celebrating the 10th anniversary of ComicBookBin where publisher Hervé St-Louis features writers past and present that have contributed to ComicBookBin over the years.

© Copyright 2002-2021 by Toon Doctor Inc. - All rights Reserved. All other texts, images, characters and trademarks are copyright their respective owners. Use of material in this document (including reproduction, modification, distribution, electronic transmission or republication) without prior written permission is strictly prohibited.