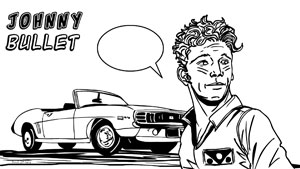 European Comics
Les Passagers du vents: La petite fille Bois-Caïman - Vol 1
By Hervé St-Louis
Jan 24, 2010 - 17:39
12bis
Writer(s): François Bourgeon
Penciller(s): François Bourgeon
Inker(s): François Bourgeon
Colourist(s): François Bourgeon
Letterer(s): François Bourgeon
Cover Artist(s): François Bourgeon
ISBN: 978-2356480668
$29.99 CAD

Zabo, the great granddaughter of Isabelle de Marmaille, the heroine of the first five volume of the critically acclaimed series

Les Passagers du vent

, lives in Louisiana during the American civil war. The plantation of her parents, of French descent has been destroyed and Zabo must contact her great grandmother to retrieve her younger brother and live in peace while the war is raging on and destroying men, women, and slaves on both sides. But Zabo's journey in the hinterland of Louisiana, with the charming Quentin Constant, a French reporter covering the war leads her to find another woman who is as strong-minded and independent as she is.



I never read any of the previous volumes of

Les Passagers du vents

, thinking they were but pirate tails with a swashbuckling heroine akin to

Pirates of the Caribbean

in tones. I was wrong. This is a finely constructed historical drama chronicling events that shaped the new world, starting with a solid French connection. Bourgeon here, tries the impossible. He ties the history of the slave trade in Saint-Domingue (current-day Haiti and the Dominican Republic) with the slave culture of Louisiana past its purchase by the Americans during the Civil Wars. There are clear parallels to both worlds. Both are based on slavery an economic motor, challenged by opponents who want freedom and an end to slavery. Both are French and a cultural mix of the many nations that have cemented the bases of these societies. The link between the two societies is so well established, it's a wonder it was not done so before. For Francophiles, this story is even more significant because it explains how the remnants of the French empire in the Americas survived, outside of Canada. This series mixes Haitian slaves, Acadian deportees, French Creoles, French natives and Americans in a tightly plotted story where the Louisiana link is used to close off the story of the first heroine from the Caribbean.



Bourgeon tramples over clear linear explanatory sequences, moving forward with his story quickly. He has much to cover and one can feel the passion and lack of patience he has which is why important story developments are contained in single pages, while the story rages on. That he managed to cover so much in 84 pages, while keeping the topic mature and seriously profound and deep proves that the current passion of modern comic book writers to extend simple stories past a necessary amount of pages, to pad – is unnecessary and not an effective storytelling technique. Bourgeon also aims for as much realism as possible, mixing Acadian, Creole, French, Spanish, and English within one story and only providing a translation at the end of the book, like an appendices. Very few readers will be able to understand this entire story without relying on the translations provided at the end.



Bourgeon is a realist. The story he crafts tries to be as realistic as possible, removing any fantasy elements, even when they are scenes of voodoo witnessed by the main characters. I like the expressions he provides for the characters. A favourite panel of mine is the one where a gun is pointed under the jaw of Zabo, and her constant smirk is deformed as surrender to the harsh realities that women can expect in times of wars. For women in this book look gorgeous or ugly but have real bodies and real gestures that differentiate them from men.

The second volume of this sequel to the popular

Les Passagers du vent

is due this month. This new series is a perfect jumping on point for readers that have never read any of the stories that have been published since 1979. Previous volumes were published by Casterman but this one is by another publisher who may not have signed on to any translated release for the English speaking market. Even if you cannot read this story, you will still marvel at the beautiful artwork provided by Bourgeon.
© Copyright 2002-2018 by Toon Doctor Inc. - All rights Reserved. All other texts, images, characters and trademarks are copyright their respective owners. Use of material in this document (including reproduction, modification, distribution, electronic transmission or republication) without prior written permission is strictly prohibited.