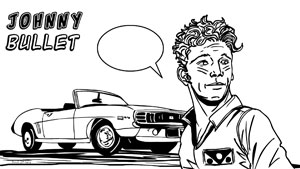 Marvel Comics
New Warriors #5
By Zak Edwards
October 19, 2007 - 12:42
Publisher(s): Marvel Comics
Writer(s): Kevin Grevioux
Penciller(s): Paco Medina
Cover Artist(s): Nic Klein

New Warriors #5

New Warriors restarted five months ago now with a bang. Being both politically conscious of the Marvel Universe after the Civil War event and socially conscious of the effects of the House of M on the mostly de-powered mutant population. The New Warriors in the first couple of issues seemed to use the state of the Marvel Universe as a mirror to our own world. Then it became bogged down in being a four issue story stretched into a six issue story. Now the new New Warriors, while still a decent title, is running into a couple of problems. Grevioux had spent the first three issues barely giving us glimpses at the title team, instead focusing on the world they existed in, giving a setting to the audience steeped in politics, heavy government control, and an unsatisfied populace. The last issue finally gave some much needed face time to the New Warriors, but events happened to quickly without establishing a connection with the audience to the characters. The series is aiming for a teenage audience and it should be meeting that demographic with success, but many elements of the story will ring true with an older audience than that, but a younger, less aware, audience may not understand much of what is going on.

Before we get into the writing of the story, I'm going to state that I am assuming you have read the last issue and therefore discuss previous points in the story. Are we okay? Good. The death of one of the new New Warriors, Tattoo, was a resounding failure. Caring about a character who barely received a name, much less a personality or even many lines, is impossible. So much of what the team is feeling is difficult to relate to or understand. At this point, it is easier to care about the detective story, which had suddenly become relevant in the last issue, than the New Warriors getting their butts kicked. This series has focused on the peripheral stories so much that they have become more important in the reader's mind. Fans of the "Front Line" stories from the Civil War and World War Hulk stories and Generation M from before that will have a pleasant surprise of another additional subplot. But with all these subplots running, the main plot is swallowed up. Perhaps the New Warriors are not the main plot, perhaps I'm going at this all wrong, but if the title team are indeed the focus of the series, or perhaps Grevioux needs to reevaluate these tangents. Despite this, the series has reverted to its politically aware themes, something that was very strong at the beginning. Hopefully the series will continue in this way. But a little focus to establish a connection with the characters to the audience is needed. Grevioux has displayed an ability to create a series delving into the state of things going on in this new world, but balancing an ongoing series into that has caused some elements of plot in need of revival. Unfortunately, the cost may be the sacrifice of the focus on the relevant political and social awareness to our own lives. Grevioux has some work ahead of him but this comic may be an interesting one to watch.

Paco Medina is a very energetic artist to say the least. Action sequences burst from the page right into your eye sockets. These scenes are chaotic, their dangerous, their crazy, their awesome! This energy transfers from scene to scene, allowing for the less action-orientated scenes to not cause a drop in flow and feel. Sometimes, with comics being a relatively quick-moving medium, transfers from scene to scene can feel like walking into a brick wall when it comes to consistency in feel. Medina eases these transfers. His drawings are still fairly disproportionate when concerning the female form, though. The last couple of issues has scene clever use of objects obstructing his tendency to draw women in unrealistic ways, but this issue sees the return of this. It is not a welcome return. Besides this, Medina's art is very easy to enjoy and mixes with the script very well.

7/10 Grevioux may be running into some problems in the future, or he may come up with something nothing short of genius. A relevant story and exciting art.

And, as always, feel free to e-mail me your opinions at zak@comicbookbin.com.

© Copyright 2002-2019 by Toon Doctor Inc. - All rights Reserved. All other texts, images, characters and trademarks are copyright their respective owners. Use of material in this document (including reproduction, modification, distribution, electronic transmission or republication) without prior written permission is strictly prohibited.