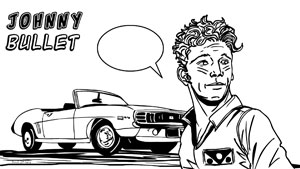 Marvel Comics
Nemesis #3 of 4
By Hervé St-Louis
October 3, 2010 - 12:20
Publisher(s): Marvel Comics
Icon
Writer(s): Mark Millar
Penciller(s): Steve McNiven
Inker(s): Steve McNiven
Colourist(s): Dave McCaig
Letterer(s): Clayton Cowles
$2.99 US

Nemesis the world's most brilliant villain has been captured but is already on his way out and ready to humiliate police Chief Blake Morrow. Will the chief's children come back alive and unbroken from their capture by Nemesis?

It's been a few months since the last issue was published. It feels like it was six months ago. Still, the series that's the philosophical successor to Kick-Ass continues to push the boundaries of what a villain is about and how much violence a comic book can pack. It's not the most violent, but the ideas introduce can seem a bit deranged. This story of the pseudo Batman turned bad is not bad at all, and I'd rather if the story was longer instead of just four issues. Perhaps Millar didn't feel he could keep up the madness beyond four issues?

I like the fight between Nemesis and the prison guards. I like how wretched the characters feel in this series. I also like the European flair of the artwork. The reduced colour palette however makes this feel like an Avatar comic book series and reduce the super hero feel of this story. I'm not sure when Nemesis will be released as a film, but this series was written specifically for a movie treatment.


© Copyright 2002-2019 by Toon Doctor Inc. - All rights Reserved. All other texts, images, characters and trademarks are copyright their respective owners. Use of material in this document (including reproduction, modification, distribution, electronic transmission or republication) without prior written permission is strictly prohibited.