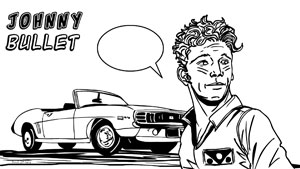 Press Releases
Megamind 3D Movie
By Patrick Oliver
Oct 24, 2010 - 12:23
Studios: DreamWorks Animation, Pacific Data Images, Red Hour Films
Writer(s): Alan J. Schoolcraft, Brent Simons
Starring: Will Ferrell, Tina Fey, Justin Long, Jonah Hill, David Cross, Brad Pitt
Directed by: Tom McGrath
Produced by: Lara Breay, Ben Stiller, Denise Nolan Cascino
Running Time: 96 minutes
Release Date: 5th November 2010
Rating: PG
Distributors: Paramount Pictures

Blue Rondo à la Turk





Two orphaned alien babies head to earth at the same time. One super intelligent and the other invulnerable and with the ability to fly. They both grow to adulthood (meeting along the way to establish a life-long rivalry), but on separate sides of the law. Playing with many superhero conventions,

Megamind

has a talented cast, a tight, funny script, sharp direction and could be to Dreamworks what

The Incredibles

were to Pixar studios.




Here are the first five minutes: Or gohere to watch the clip.
© Copyright 2002-2018 by Toon Doctor Inc. - All rights Reserved. All other texts, images, characters and trademarks are copyright their respective owners. Use of material in this document (including reproduction, modification, distribution, electronic transmission or republication) without prior written permission is strictly prohibited.