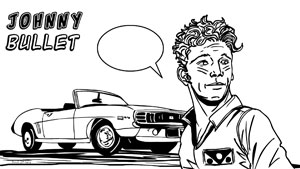 More Comics
Lone Ranger & Tonto #2
By Philip Schweier
January 25, 2009 - 17:50
Publisher(s): Dynamite Entertainment
Writer(s): Brett Matthews & Neil Turitz
Penciller(s): Vatche Mavlian
Inker(s): Vatche Mavlian
Colourist(s): Romulo Fajardo Jr.
Letterer(s): Simon Bowland
$4.99 US

Between story arcs in the regular

Lone Ranger

series, Dynamite Entertainment publishes

The Lone Ranger & Tonto

, which features a stand-alone story to allow readers a rest before continuing the ongoing saga.

LR&T

#3 features "Reston," a tale of corruption and monsters – yes, monsters – in the Old West.

The story itself is simple enough, as the daring and resourceful masked rider of the plains and his trusted Indian companion stumble on a frontier town suffering from an inexplicable madness. I greatly enjoy the regular series, as it has successfully elevated Tonto beyond sidekick status, making him almost a mentor to the Lone Ranger. In this story, however, it is refreshing to see the masked man take the lead, and demonstrate some of the ability for which he is famous.

Vatche Mavlian's art is nearly cinematic in presentation, and he uses a great deal of pen & ink texture that I appreciate. It reminds me of E.R. Cruz's work in the 1970s, but with a greater degree of "etching," suited to a tale of the 1800s. Mavlian's mood and tone make up for a shortcoming in his rendering ability of faces, but time and experience will no doubt see him through. Fajardo's coloring uses what appears to be a few Photoshop tricks which in some places detract from Mavlian's artwork. In my opinion, the art should be able to stand on its own without color, but your mileage may vary.

© Copyright 2002-2019 by Toon Doctor Inc. - All rights Reserved. All other texts, images, characters and trademarks are copyright their respective owners. Use of material in this document (including reproduction, modification, distribution, electronic transmission or republication) without prior written permission is strictly prohibited.