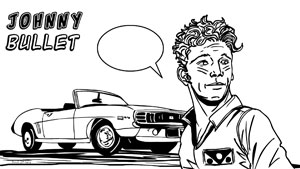 Manga
Lawak Kampus Volume 12 - A Malaysian High School Parody
By Hervé St-Louis
May 20, 2012 - 14:25
Gempak Starz
Writer(s): Keith
Penciller(s): Keith
Colourist(s): Keith
Letterer(s): Seng
Cover Artist(s): Yuuzu
ISBN: 9789673850532
RM 7.50 (Appromimately $2.40 US)

Kampus is a collection of four panel strips about a bunch of high school students and their teachers and principal. The strips are short gags about several recurring characters. This series is quite popular in Malaysia and is created by cartoonist Keith. The twelfth volume in the series, Kampus' gag strip format is very popular in Malaysia and is meant mostly for kids although the production value of the book are great.

In this volume, the gags are not focused solely on student life and have expanded. In fact most of them have nothing to do with high school and are more generic. Maybe after 12 volumes, Keith is starting to run out of fresh material. Although each character has a few quirks they are mostly interchangeable. They quickly run into problems and are faced with the consequences rather quickly.

The cartoon style of the series is very inspired by manga but with nice colouring. Although i can't read Malay, I was still able to understand most of the jokes only through the visual storytelling. Just like Lawak Shabu-Shabu the panels's composition are vertical with about one or two strips per pages. Some of the jokes rely on visual codes and cues that I'm not familiar with even if I've read many mangas. That means that I could not understand all the stories. A thirteenth volume was release in March 2012. Again, books like Lawak Kampus would be perfect material for young readers in North America and Europe because they offer so much more entertainment value than standard kids' fair.


© Copyright 2002-2019 by Toon Doctor Inc. - All rights Reserved. All other texts, images, characters and trademarks are copyright their respective owners. Use of material in this document (including reproduction, modification, distribution, electronic transmission or republication) without prior written permission is strictly prohibited.