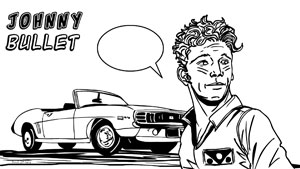 DC Comics
Justice League vs Suicide Squad #6 Review
By Deejay Dayton
Jan 28, 2017 - 17:23
Publisher(s): DC Comics
Writer(s): Joshua Williamson
Penciller(s): Howard Porter
Inker(s): Howard Porter
Colourist(s): Alex Sinclair
Letterer(s): Rob Leigh
Cover Artist(s): various
$2.99 32 pages

Usually I avoid spoilers in my reviews. I take it as a challenge to discuss the book without giving away more than I assume the creators would want revealed. But I have to toss that out the window this time. But if any book was worth making that exception for, it would be Justice League vs Suicide Squad 6.

So many times over the years DC has promoted a big crossover event, built expectations, and then wound up letting the readers down at the end. It's not only DC that has done this, and it certainly hasn't been the case with every big event. But I doubt there is a comic reader alive who hasn't felt disappointed with some story that was promoted as the greatest thing in print.

This time, it went a bit differently. Ok, sure Justice League vs Suicide Squad was made a weekly event and heavily promoted, but even so, nothing prepared me for what this miniseries would actually achieve, or how important it would be.
And, much more than that, the story itself was top quality from beginning to end. As I wrote in my review of issue 5, this was well planned and well plotted, and must have given the creators an awful lot of pleasure to see it come together.

We get to see Batman lead a team of Suicide Squad members against the Justice League, possessed by Eclipso, while Amanda Waller faces off with Maxwell Lord, who was foolish enough to think he could control the immortal evil of the split faced demon.

It's a great big glorious battle scene that ends when Killer Frost proves to be a major player. And it culminates in Frost having to make a life or death decision, one that changes her life.

The epilogue to the tale is as much fun as the story itself. Killer Frost and Lobo are invited by Batman to join the Justice League. The Lobo invitation made me howl out loud with laughter. Eclipso, Dr. Polaris and Rustam are all still around and ready for vengeful returns. Emerald Empress and Johnny Sorrow function as doorways that are opening the returns of the Legion of Super-Heroes and Justice Society of America. Amanda Waller is putting together a new team, under her sole control.

And we find out who was really behind everything. Who masterminded all the events of this series, and who benefits from it. That I will leave unspoiled. It's far too good.


© Copyright 2002-2018 by Toon Doctor Inc. - All rights Reserved. All other texts, images, characters and trademarks are copyright their respective owners. Use of material in this document (including reproduction, modification, distribution, electronic transmission or republication) without prior written permission is strictly prohibited.