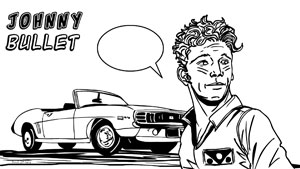 DC Comics
Justice League of America/Doom Patrol #1
By Deejay Dayton
Feb 1, 2018 - 9:51
Publisher(s): DC Comics
Writer(s): Steve Orlando, Gerard Way
Artist(s): Aco, Hugh Petrus
Colourist(s): Tamra Bonvillain, Marissa Louise
Letterer(s): Clem Robins
Cover Artist(s): Frank Quitely
$4.99, 40 pages

I do my best to avoid reading spoilers or most previews. I don't like knowing ahead of time what I will be reading when I pick up a comic book. With the Justice League of America/Doom Patrol issue, the first chapter of the Milk Wars, I was pleasantly rewarded for my efforts.

I had no idea what I was in store for when I started reading this, and was absolutely delighted with the book from start to finish.

The Milk Wars builds out of events going on in Doom Patrol, and I do have to warn you that, if you haven't been reading that book, you will be mightily confused by this one. But you SHOULD be reading Doom Patrol, so I have no sympathy for you.

The main villain in this is Retconn, who is changing reality to make the Justice League more homogenized and inoffensive. This results in a sort of Plesantville version of the League, such as Superman becoming a super milkman.

There is a lot of meta stuff in this, which works exceptionally well. I love the discussion on how the archetypes of Wonder Woman and Batman are more universal, and thus more malleable, than that of Superman, who has repeatedly proved resilient to change.

I also loved the two page spread featuring the covers of the comics that the Justice League members had debuted in.

And fear not, this has Doom Patrol craziness permeating each and every page, and makes the most of that team as well.

If I haven't already convinced you that you need to buy this book, I have only two words for you. Manga Khan. What more could you want?


© Copyright 2002-2018 by Toon Doctor Inc. - All rights Reserved. All other texts, images, characters and trademarks are copyright their respective owners. Use of material in this document (including reproduction, modification, distribution, electronic transmission or republication) without prior written permission is strictly prohibited.