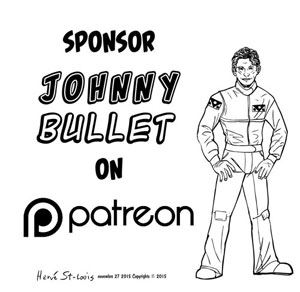 ComicBookBin Store
Johnny Bullet Digital Comic #1
By Hervé St-Louis
Dec 12, 2016 - 1:18
Publisher(s): Toon Doctor
Writer(s): Hervé St-Louis
Penciller(s): Hervé St-Louis
Inker(s): Hervé St-Louis
Colourist(s): Hervé St-Louis
Letterer(s): Hervé St-Louis
Cover Artist(s): Hervé St-Louis
$2.99

Re-lettered, partly redrawn, and in a huge file, read the first issue of Johnny Bullet as it was meant to be enjoyed, with a huge canvas, including a bonus page not published in the web comic.


$2.99



Johnny Bullet Digital includes the following:

Strips #1 to 22
Re-lettered comic
Several panels redrawn
Johnny Bullet Strip Bonus #00
Canvas size 17x11 inches
23 pages, black and white

A link to the comic will be sent to you by email once the purchase through Paypal is completed.


© Copyright 2002-2017 by Toon Doctor Inc. - All rights Reserved. All other texts, images, characters and trademarks are copyright their respective owners. Use of material in this document (including reproduction, modification, distribution, electronic transmission or republication) without prior written permission is strictly prohibited.