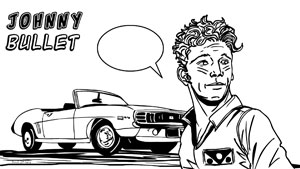 More Comics
Invincible #72
By Hervé St-Louis
June 5, 2010 - 23:32
Publisher(s): Image Comics
Writer(s): Robert Kirkman
Penciller(s): Ryan Ottley
Inker(s): Cliff Rathburn
Colourist(s): FCO Placencia, FCO Placencia
Letterer(s): Rus Woton
Cover Artist(s): Ryan Ottley
$2.99 US

Invincible faces Conquest a second time. This time neither combatant will underestimate the other and they will fight until one of them die and the other barely makes it alive. Which one will it be? This issue took me by surprise. It's a great super hero fight to the finish the likes of which we rarely see these days, even with all the violence that's been allowed to creep in super hero comics. It used to be that Invincible was the safe series for those who long a old school super hero with challenges and real emotions,

à la

Spider-man. The last year or so, Invincible has proven that every time we think it will become bland, it will shock us. This issue is like that. I really did not expect a fight to the finish when I picked this title this week. I didn't skip to check out the last pages, so it was a real shocker for me. I don't know how they' ll come back from that one. Ottley, like everything in this issue is great. However, I seriously hope that drawing these comic books draw out all the anger he may have confined inside because the gore is as vicious as anything you would see in a war documentary. Well, this storyline is called war. I guess it has to show guts and lots of blood. By the way, what I'm most amazed in is that with his father next to him and very strong allies, Invincible still has to go one on one with Conquest to get the job done. If you're longing for exciting no holds barred super hero action, this might be your fix.
© Copyright 2002-2021 by Toon Doctor Inc. - All rights Reserved. All other texts, images, characters and trademarks are copyright their respective owners. Use of material in this document (including reproduction, modification, distribution, electronic transmission or republication) without prior written permission is strictly prohibited.