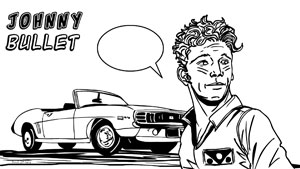 Manga
High School of the Dead Volume 1
By Chris Zimmerman
Jan 18, 2011 - 21:58
Yen Press
Writer(s): Daisuke Saio
Penciller(s): Shouji Sato
Letterer(s): Chris Counasse
ISBN: 978-0-316-13225-1
$13.99 US

While Vampires have proven to be a bankable commodity in all forms of media, the popularity of the Zombie has only recently been on the upswing, what with the phenomenal

Walking Dead

Television series and the production of

Max Brook's

World War Z

. High School of the Dead seeks to capitalize on that growing popularity with a healthy mix of action, teenage angst, and a dose of fan service.



High School of the Dead

has already proven its popularity overseas, receiving an animated adaptation courtesy of Madhouse Studios and was streamed simultaneously by

Sentai Filmworks

. Thankfully

Yen Press

picked up the rights to the book and has delivered the first volume into the waiting hands of eager fans.

Written by

Daisuke Sato

with art provided by

Shoji Sato

, the series follows a group of students who band together after a zombie outbreak erupts throughout their school. Takashi Komuro and childhood friend Rei manage to survive the initial onslaught, fighting off several of their infected classmates as they struggle to escape the school confines in the hopes of finding their parents.

There's a genuine feeling of appreciation the creators show for the genre, hitting every zombie stereotype and paying homage to the classics that came before it while adding there own signature touches. The characters fight through hoards of zombies and are eventually joined by others reflecting classic tropes that have come to be associated with the Japanese culture.

The artwork isn't especially strong but it's not exactly weak either. It's kinetic and the layouts are packed panels bursting with explosions and gore. One major gripe in the art stems from the obnoxious over-sexualization of the female characters. The various panty shots are borderline obsessive at times. It's fan service for the sake of fan service and while there is a time and place for it, the drama the author is trying to convey is nearly undone.

Despite its crude approach,

High School of the Dead

is still massively entertaining. Unlike the Vampire, Zombies have yet to be played out and are much more fun anyway. The series combines action, comedy, and horror, crafting a title that makes for biting good reading.


© Copyright 2002-2018 by Toon Doctor Inc. - All rights Reserved. All other texts, images, characters and trademarks are copyright their respective owners. Use of material in this document (including reproduction, modification, distribution, electronic transmission or republication) without prior written permission is strictly prohibited.