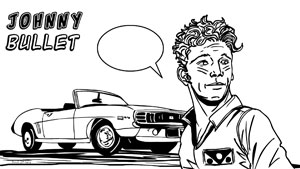 DC Comics
He-Man ThunderCats #2
By Hervé St-Louis
December 25, 2016 - 20:23
Publisher(s): DC Comics
Writer(s): Rob David, Lloyd Goldfine
Penciller(s): Freddie E. Willimas II
Inker(s): Freddie E. Willimas II
Colourist(s): Jeremy Colwell
Letterer(s): Deron Bennett
Cover Artist(s): Freddie E. Willimas II
$2.99

He-Man's sword has been stolen by Skeletor who plans on using Mumm-Ra's remains to transform himself into a being capable of wielding the power of Greyskull. But He-Man is still standing regardless of the fact that he does not have a sword. Will Skeletor's plan work before the Thundercats can intervene?

Surprisingly, this comic was fun to read and a good sequel to the first issue. I admit that although these are characters from my childhood that the nostalgia has not compelled me to read this comic earlier. I don't know why. There is always a perception that these comics are written for kids instead of current readers. This comic is not. Although drawing from the source material we are all familiar with, it present the current story well.

I was worried that the Thundercats would not get as much screen time in the comic as He-Man. It appears this way but the next issue should balance things out a bit. Meanwhile, I enjoyed the interaction between Mumm-Ra and Skeletor. They are both so evil without even cancelling one another!

Freddie Williams II is always an acquired taste. But here, his work shines and fits better than anything else. His exaggerated musculature is not a problem in this comic. The kind of grotesque physique he gives characters is what I expect from these cartoon characters. If you have been sitting on the fence about this comic like I have, just give in. You will not be disappointed.


© Copyright 2002-2019 by Toon Doctor Inc. - All rights Reserved. All other texts, images, characters and trademarks are copyright their respective owners. Use of material in this document (including reproduction, modification, distribution, electronic transmission or republication) without prior written permission is strictly prohibited.