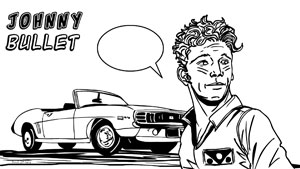 More Comics
Grindhouse: Doors Open at Midnight #2 Review
By Diego Chi
Oct 31, 2013 - 15:10
Publisher(s): Dark Horse Comics
Writer(s): Alex De Campi
Penciller(s): Chris Peterson
Colourist(s): Nolan Woodard
Cover Artist(s): Dan Panosian
ISBN: 7 61568 22741 3 00211
$3.99

I picked up a copy of Alex de Campi and Chris Peterson's

Grindhouse: Doors Open at Midnight #2

, and quietly sat down on my couch-- my usual reading spot. What I didn't expect was to suddenly find myself transported back to a dark, dingy theater. I could almost hear the low narration from the movie-previews guy: "A female Mexican Deputy with an eyepatch and an attitude. A motorcycle that comes when you call. A horde of big-breasted bee-women. And gore gore gore..."
I could not help but find a sincere joy in reading

Grindhouse

. De Campi and Peterson's first arc titled "Bee Vixens From Mars" is a Darkhorse's first venture in translating the B-movie genre into comics-- and it is a stellar one. Full of campy dialogue, over the top action, extreme gore, and sexy situations, "Bee Vixens From Mars" is perfect for any grindhouse movie fan.
De Campi's writing is spot on, making sure to include one-liners and vulgarities. I was happy to see that not all of the details were pure rehashes. For example, the badass, Rambo-esque protagonist is not played by a male, but rather a hispanic female. She is also assisted by a gay couple who run a general store. A tip of the hat to you, de Campi.
I don't often laugh out loud reading comics, but Alex de Campi's script made me do so-- more than once! Where else can you read something like "Here iszz zthe Mexican my Queen," or "Hey Jimmy, okay if I shoot your wife?" Superb.
All that being said, the script would be nothing without the gritty visuals Peterson brings to the table. His command of pacing gives the action and the gore sequences weight. I won't go into detail, but there is a monster-moment involving larvae where the way Peterson lays out the sequence gave me a pit in my stomach. Bravo. My only criticism would be that the "sexploitation" nature of the genre seems a bit subdued in comic-book form. That could be because comic books are already over-sexualized, so Peterson's depictions of big-breasted vixens with hour-glass figures does not have the same impact as it would in film. I cannot say I blame him, but rather the medium.
Is it high art? Of course not! And if that's what you like I recommend you stay away. But for the rest of you, the few of you, who live for the sexy thrills, the ridiculous explosions, and the messy gore, go grab a copy as soon as it hits the shelves! And welcome to the

Grindhouse

.
© Copyright 2002-2018 by Toon Doctor Inc. - All rights Reserved. All other texts, images, characters and trademarks are copyright their respective owners. Use of material in this document (including reproduction, modification, distribution, electronic transmission or republication) without prior written permission is strictly prohibited.