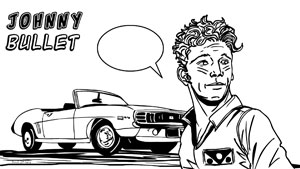 DC Comics
Green Lantern #18 Review
By Alexander Jones
March 8, 2013 - 04:06
Publisher(s): DC Comics
Writer(s): Geoff Johns
Penciller(s): Szymon Kadranski, Ardian Syaf
Inker(s): Mark Irwin
Colourist(s): Alex Sinclair, Tony Avina
Letterer(s): Dave Sharpe
Cover Artist(s): Gary Frank, Alex Sinclair

Green Lantern

is slowly winding to its conclusion in two issues. There are many different plot threads in the air from Simon Baz's redemption to his family to Sinestro finally accepting his chance for redemption that was offered to him eighteen months ago. Writer Geoff Johns has stated how Sinestro not seeking or even wanting redemption to be a focal point of the series. Sinestro regresses slightly within these pages. He becomes angry and malicious, when Hal Jordan steals the spotlight from him he threatens death upon the lanterns.
Jordan still has something to prove even in death. Hal states in the beginning how he is not afraid of the dark. That statement was not true back in 2004 during

Green Lantern Rebirth

. The growth of the character has been an engaging emotional hook throughout all of the key issues.

During Jordan's fight with Sinestro both characters have much at stake. It was a strange point in the issue that had the audience almost rooting for both heroes to escape the dark and dreary void. Geoff John's uses Jordan's dialogue to paint a picture of how the characters are truly different during that fight. After Sinestro throws a punch at Jordan, Hal states how Sinestro would never come back from Jordan if the two characters would be put in the same situation yet how Jordan would come back for Sinestro every time.

This revelation is in fact the opposite of what truly happens as Sinestro escapes the void by taking emotional advantage of Hal Jordan in the middle of a fight. After reading this page of the issue an important part of Geoff John's run on

Green Lantern

was made clear; John's has done the unexpected time after time again. In the end of the issue Hal Jordan decides to kill himself!

Baz is put on the supporting cast this week as the drama truly revolves Hal Jordan and Sinestro. Baz makes his stance clear as his life was falling apart it was the ring that gave him the clear mind he needed to help his sister. Another big part of the issue was Baz shooting Sinestro. Even though the three characters are meant to be working together a lethal shot to the chest was fired. Sinestro attempted to assert his dominance on a free spirit like Baz and was rightfully put in his place.

Even though this issue contained a lot of plot heavy dialogue, it was charged with visceral emotion that gave the issue an incredible sense of energy. The art by Kudranski and Syaf served the issue very well. The void needed a type of style that may have been out of series regular Doug Mahnke's art style. Putting a darker more realistic style was well chosen for this bleak issue of the series. However the pages set outside of the void in space are drawn very poorly with a style the does not meet the high art standards of

Green Lantern

.

This issue of

Green Lantern

was very effective in setting up the endgame of the series and still remaining interesting.
© Copyright 2002-2019 by Toon Doctor Inc. - All rights Reserved. All other texts, images, characters and trademarks are copyright their respective owners. Use of material in this document (including reproduction, modification, distribution, electronic transmission or republication) without prior written permission is strictly prohibited.