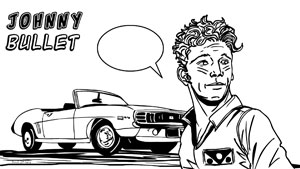 DC Comics
Green Arrow #33
By Paul Mason
Nov 2, 2017 - 15:22
Publisher(s): DC Comics
Writer(s): Benjamin Percy
Artist(s): Benjamin Percy
Letterer(s): Deron Bennett
Cover Artist(s): Jamal Campbell
$2.99

Oliver is back in Star City. He reunites with Black Canary and pretty much nothing really happens. Even as a filler or set up who issue this one is slow.

It was nice to see some mysterious cameos in the comic and it ends on a cliffhanger.

The art again is really on point Green Arrow's artist has his own style almost abstract as opposed to hyper real but it is gorgeous.


© Copyright 2002-2018 by Toon Doctor Inc. - All rights Reserved. All other texts, images, characters and trademarks are copyright their respective owners. Use of material in this document (including reproduction, modification, distribution, electronic transmission or republication) without prior written permission is strictly prohibited.