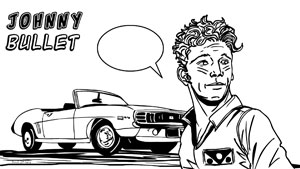 DC Comics
Gotham City Garage #2
By Paul Mason
Nov 3, 2017 - 20:04
Publisher(s): DC Comics
Writer(s): Jackson Lanzing, Colin Kelly
Penciller(s): Lynne Yoshi
Inker(s): José Marzan Jr., Livesy, Don Ho, Richard Friend
Colourist(s): Kelly Fitzpatrick
Letterer(s): Wes Abbott
Cover Artist(s): Jason Badower

What the bleep did I just read. I missed the first issue which wouldn't be too bad if there was some recap or anything to indicate I wasn't jumping in the story mid stream and carried away by current. There is a character named Kara in Supergirl's colours in a motorcycle gang with someone named Banshee(silver banshee?) And someone that kind of looks like Big Barda. The girls are on their way to heist a truck with no explanation except that they are a motorcycle gang, but are confronted by a rival gang called red hoods that used to be parademons(?)

Basically it is like the creators wanted to mash up mad max fury road with an alternative DCuniverse writer but it just seems like a hot mess.

Subjectively I am not a fan of the art either. The style is different and bold but not to my tastes.

I prefer a more hyper real style to a cartoonist abstract style that looks messy.


© Copyright 2002-2018 by Toon Doctor Inc. - All rights Reserved. All other texts, images, characters and trademarks are copyright their respective owners. Use of material in this document (including reproduction, modification, distribution, electronic transmission or republication) without prior written permission is strictly prohibited.