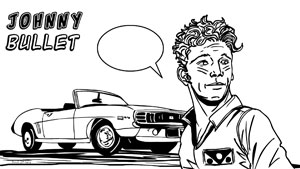 DC Comics
Deathstroke #20
By Hervé St-Louis
June 16, 2017 - 10:18
Publisher(s): DC Comics
Writer(s): Christopher Priest
Breakdowns: Larry Hama
Penciller(s): Carlo Pagulayan
Inker(s): Jason Paz, Sean Parsons
Colourist(s): Jeremy Cox
Letterer(s): Willie Schubert
Cover Artist(s): Lee Weeks, Brad Anderson; SHane Davis, Michelle Delecki, Alex Sinclair
$3.99



Deathstroke has a change of heart after seeing that he cannot revive his dead son. But Deathstroke always does things to the extreme and now vows that he will be a force for good in the world. To do so, he recruits some of the people he's hurt the most and asks them to trust him in his new endeavour. But will they trust him long enough?

I feel that Christopher Priest has written a story about people that I know. Those friends and acquaintances of mine who always do things to the extreme. They have no moderation. This is Deathstroke. He's either a killer or a saint trying to save the world. He can't retire and live a quiet life in the South of Italy, like the rest of us.



Here Deathstroke makes fun of born again Christians as he attempts to recruit Power Girl. But in doing so, he makes a mockery of himself as the very fervour that he mocks is that which makes him change of heart. But Deathstroke is not clued in on this and it shows how much Priest is having fun with the characters of the series when he can mock their motivations and show how much of hypocrites they are. I'm not expecting Deathstroke's change of heart to end up well for most of the poor souls he has recruited. But the ride will be interesting.

Madeline hates him yet she is part of his crew. Ditto for Jericho. I will not criticize this part of the story yet as the murder of Jericho's bride has not been resolved and one person in the Deathstroke's crew is responsible for Étienne's death. This is why it can be so hard to read Deathstroke and other Priest-series sometimes. I really enjoy this issue. But for some readers the multi-level play can be too much to concentrate on.

Larry Hama continues to shape the wonderful breakdowns of this story which are then rendered marvellously by Carlo Pagulayan. It's great work guys!


© Copyright 2002-2020 by Toon Doctor Inc. - All rights Reserved. All other texts, images, characters and trademarks are copyright their respective owners. Use of material in this document (including reproduction, modification, distribution, electronic transmission or republication) without prior written permission is strictly prohibited.