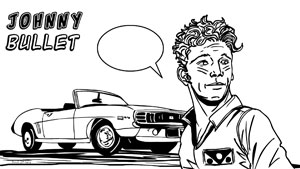 DC Comics
Deadman #3 Review
By Deejay Dayton
Feb 10, 2017 - 21:32
Publisher(s): DC Comics
Writer(s): Sarah Vaughn
Penciller(s): Lan Medina
Inker(s): Lan Medina, Phil Hester
Colourist(s): Jose Villarrubia
Cover Artist(s): Stephanie Hans
$5.99, 48 pages

Sarah Vaughn and Lan Medina bring the Deadman miniseries to an excellent conclusion in the final issue of Dark Mansion of Forbidden Love. The story started off, right from the title, promising a big Gothic romance, and it delivers on this in spades.

There were a number of mysteries set up during the first two issues. Why was Deadman trapped in the house? Who really killed Adelia? Which of the two lovers in her life would Berenice choose? All the answers are revealed in the final chapter, and there are some good surprises along the way, as well as solid explanations.

There is one gigantic twist, and I am so glad I didn't see it coming. So glad, that I refuse to ruin it for anyone else. Looking back, there are some subtle clues, but never any big enough hints that would have allowed anyone to do more than make a vague guess at it.

Because this is, first and foremost, a romance tale, I should also address how those turn out. A happy romantic ending is found, for two of the characters. But since one of the romances is a triangle, this means that not everyone in the story gets a happy ending. Nor should they, in a story of this style.

The finale proves to be larger, more emotional, more destructive and more violent than I had been expecting. But then, that all just keeps it true to the Gothic form as well. The house itself does not survive the story, and the house is always so important in Gothic romance. Overall, even though the story is wildly different, this reminded me of Crimson Peak. That film also did an exceptional job of telling a Gothic romance, taking its time to build the story and the characters, and then climaxing in a grand fashion.

While I am not sure that there is any need to revisit the characters from this story, I certainly would not be averse to reading another Deadman miniseries like this. And of course, it would HAVE to be titled Sinister House of Secret Love.


© Copyright 2002-2018 by Toon Doctor Inc. - All rights Reserved. All other texts, images, characters and trademarks are copyright their respective owners. Use of material in this document (including reproduction, modification, distribution, electronic transmission or republication) without prior written permission is strictly prohibited.