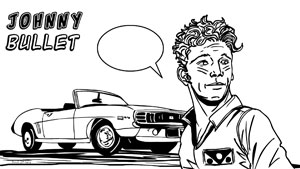 Marvel Comics
Daredevil – Dark Reign: The List #1
By Hervé St-Louis
September 20, 2009 - 20:51
Publisher(s): Marvel Comics
Writer(s): Andy Diggle
Penciller(s): Billy Tan
Inker(s): Matt Banning
Colourist(s): Justiin Ponsor
Letterer(s): Joe Caramagna
Cover Artist(s): Billy Tan, Matt Banning
$3.99 US

This issue picks up after the last issue of the regular Daredevil series where Matt Murdock became the leader of the mystical ninja group The Hand. Murdock, also known as, Daredevil has to take matters into his own hands as he controls a powerful force against but Norman Osborn has him marked in his list of targets that need to be dealt with. Will he succeed in stopping Daredevil by sending his old foe, Bullseye after him?



I guess this series is supposed to bring Daredevil squarely back into the Marvel super hero world as it makes Daredevil one of the prime targets of Osborn and tries to re-enact some classic Bullseye Daredevil action. The problem is that although the story moves at a slower pace than other Marvel comic books, but just faster than your usual Daredevil comic book, it still feels odd. It made me wish the editors of this series had left Daredevil alone instead of making him fit in with the rest of the Marvel Comics' Dark Reign storyline running through all their books. I hardly recognize Daredevil here. His personal plight has been replaced by generic super hero bravado and the down on his luck pit-bull fighter has been replaced by an avatar that calls itself Daredevil, kinda looks like him but has none of his spirit.

Tan is a bad choice for this series. His work is better suited to clear-cut and brooding super heroes, not crime detective tragedy like Daredevil. Although his work was not bad, he lacks the skill to capture Daredevil's kinetic moves. When Daredevil dodges an attack from Bullseye, it doesn't feel like it's this superbly trained acrobat beating the odds. It feels like Cable ducking an explosion without any grace.
© Copyright 2002-2019 by Toon Doctor Inc. - All rights Reserved. All other texts, images, characters and trademarks are copyright their respective owners. Use of material in this document (including reproduction, modification, distribution, electronic transmission or republication) without prior written permission is strictly prohibited.