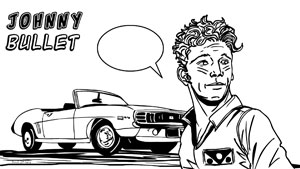 Marvel Comics
Daredevil #119
By Hervé St-Louis
June 28, 2009 - 11:45
Publisher(s): Marvel Comics
Writer(s): Ed Brubaker
Penciller(s): Michael Lark
Inker(s): Stefano Gaudiano
Colourist(s): Matt Hollingsworth
Letterer(s): Chris Eliopoulos
Cover Artist(s): Marko Djurdjevic
$2.99 US



Daredevil wakes up and figures out, albeit briefly that the Kingpin intends to double-cross him eventually. Everyone else has already figured it out and they are closing in on Daredevil and his close allies, Foggy Nelson and Dakota North. Will Daredevil wake up in time to save his friends from the Kingpin, the Owl and Lady Bullseye?

Brubaker, although he uses the ghost of the Kingpin's wife to explain parts of it, did not properly explain why the Kingpin felt compelled to double-cross Daredevil when they had reached a truce. The argument that it is in the Kingpin's nature is not enough, given how he was portrayed as having genuinely retired just a few months ago. Why does he want to be the crime boss of New York again? That's the problem with Brubaker's story. Sure, there are lots of compelling things happening in this issue and more insights into everyone's character than we could ever hope for. However, the logic of the story is weak and it feels that the writer simply wants to push ahead with another classic confrontation of the Kingpin with Daredevil in time for the return of this series to the old numbers and so he can leave something "meaningful" behind for Daredevil #500 next issue. Brubaker has already added a lot to Daredevil's life and played with all the toys competently without needing to leave off with another "classic" confrontation of Daredevil and the Kingpin. All it does it prove once again that everything about this character is stumped and forever in the shadow of what Frank Miller did almost 30 years ago on this series.

Lark and Gaudiano continue to draw a good series and their run uninterrupted for many issues certainly strengthen this run and gives it its own identity.
© Copyright 2002-2019 by Toon Doctor Inc. - All rights Reserved. All other texts, images, characters and trademarks are copyright their respective owners. Use of material in this document (including reproduction, modification, distribution, electronic transmission or republication) without prior written permission is strictly prohibited.