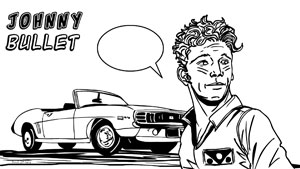 Comics To Film News
Captain America: The First Avenger official trailer
By Patrick Oliver
March 24, 2011 - 18:15
Studios: Marvel Enterprises, Marvel Entertainment, Marvel Studios
Writer(s): Jack Kirby, Joe Simon, Christopher Markus, Stephen McFeely
Starring: Chris Evans, Hugo Weaving , Hayley Atwell, Toby Jones, Samuel Jackson, Dominic Cooper
Directed by: Joe Johnston
Produced by: Stephen Broussard, Louis D'Esposito, Kevin Feige, Stan Lee, David Maisel
Release Date: 22/07/2011
Distributors: Paramount Pictures, Universal International Pictures, Universal Pictures International
Genre: Superhero Movies

I like this trailer, I think it's very well put together. It has a good zippy pace, tantalizes us with a few a little half-glimpses of things, while at the same time revealing quite a lot. I know that's what trailers are

supposed

to do, but not all of them manage it, haha. Anyway, enough chat (and no spoilers!) from me. Enjoy.


Official trailer:


© Copyright 2002-2019 by Toon Doctor Inc. - All rights Reserved. All other texts, images, characters and trademarks are copyright their respective owners. Use of material in this document (including reproduction, modification, distribution, electronic transmission or republication) without prior written permission is strictly prohibited.