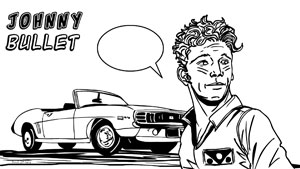 Marvel Comics
Captain America #47
By Hervé St-Louis
March 1, 2009 - 00:38
Publisher(s): Marvel Comics
Writer(s): Ed Brubaker
Penciller(s): Butch Guice
Inker(s): Butch Guice
Colourist(s): Frank D'Armata
Letterer(s): Joe Caramagna
Cover Artist(s): Steve Epting
$2.99 US

Captain America, dressed as the Winter Soldier goes to Taipei, hoping to provoke the Taiwanese into capturing him so they can lead him to the secret location of the body of the first human torch. His back up plan involves the Submariner. However, the ruler of Atlantis may not be strong enough to help.

Sometimes a comic book's cover will make one not want to read what's inside. And that's a shame when it comes to Captain America #47. Epting is a strong artist that captures the Cold War feel of Captain America, but his cover this issue didn't enhance the interior art by Guice. But beyond that, this is great comic book adventure captured once more by a master artist.

In this issue, we get some Bourne-like remorse from Captain America. What really happens is that it highlights the fact that the current Captain America is a criminal and murderer, a wanted felon in much of the world. Granted he wants to do well and improve now, but this is far from what the original Captain America stood for. I'm not complaining though. One issue that concerned me was the use of the word China to describe Taiwan, that is, if according to the writers, Taipei is still located in Taiwan and not Communist China.

© Copyright 2002-2021 by Toon Doctor Inc. - All rights Reserved. All other texts, images, characters and trademarks are copyright their respective owners. Use of material in this document (including reproduction, modification, distribution, electronic transmission or republication) without prior written permission is strictly prohibited.