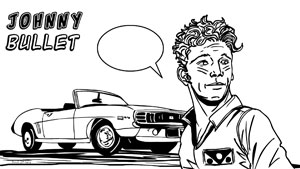 DC Comics
Blue Beetle #15 review
By Deejay Dayton
Jan 14, 2018 - 10:49
Publisher(s): DC Comics
Writer(s): Christopher Sebela
Artist(s): Scott Kolins, Tom Derenick
Colourist(s): Romulo Fajardo, Jr
Letterer(s): Josh Reed
Cover Artist(s): Thony Silas, Tyler Kirkham, Tomeu Morey
$3.99 28 pages



Blue Beetle 15 gives a better sense of how the series is going to develop now that Christopher Sebela is at the helm. I can't say I am entirely impressed.

Sebela is setting up a very mysterious situation, which Jaime and his friends wind themselves trapped in overnight. The town of Mooney does have some good, strange, events in it, but this issue is quite scattered.

Jaime starts off the issue in action as Blue Beetle, but the plot spins in a couple of different directions after that. Time warps, aging people stealing youth, there are no shortage of things going on here.

And yes, it is fun to have a number of mysteries going, but I can't say I found this issue a very entertaining ride.



Part of the problem is the art. Scott Kolins is still working on the book, but it's hard to see his touches here. I find I am already missing the detail work given to the sides of the pages in the earlier issues of the run.

I certainly haven't given up on this book completely. It's easy to go a little astray at the top of a run, setting up a lot of things, and losing the reader for a bit. That can all be won back if later issues are stronger, when the goals of the storyline become clear.

So I am hoping to be giving this book a positive review again in the future, and have not give up hope on that being possible.


© Copyright 2002-2018 by Toon Doctor Inc. - All rights Reserved. All other texts, images, characters and trademarks are copyright their respective owners. Use of material in this document (including reproduction, modification, distribution, electronic transmission or republication) without prior written permission is strictly prohibited.