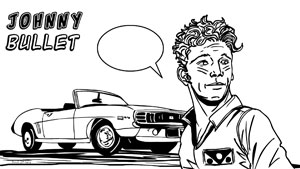 DC Comics
Blue Beetle #13 review
By Deejay Dayton
October 2, 2017 - 10:26
Publisher(s): DC Comics
Writer(s): Keith Giffen, J.M. DeMatteis
Artist(s): Scott Kolins
Colourist(s): Romulo Fajardo, Jr
Letterer(s): Josh Reed
Cover Artist(s): Scott Kolins
$3.99 28 pages



Say farewell to Giffen, DeMatteis and Kolins, who complete their last issue of Blue Beetle with number 13. It's a fun ride out, which sends Jamie Reyes far into the future to help out Justice League 3001.

I was a fan of Justice League 3001, so of course I really enjoyed this issue. I would say, however, that how much one likes this particular book really depends on how much one enjoyed that one.

Blue Beetle himself takes a back seat, more or less, to all the other members of the team in a fight packed story. It serves as a great epilogue for the Justice League book.



I will very much miss this creative team as the series continues. Kolins did such a great job with Blue Beetle's costume. He gives the hero a full page panel towards the end of the story, and his execution of the outfit is just perfect.
Before he walked out the door, Giffen does make one major "change," a revelation that involves Lady Styx. It's the kind of change that could be ignored easily by later writers, although I hope it isn't.

So whither Blue Beetle now? DC seems determined to give this guy a book, and all but guaranteed a readership of this latest run with the guest star packed stories thus far. I really wouldn't mind a bit of a break from that, and just spend some time with Jamie and Ted Kord and the supporting cast.


© Copyright 2002-2019 by Toon Doctor Inc. - All rights Reserved. All other texts, images, characters and trademarks are copyright their respective owners. Use of material in this document (including reproduction, modification, distribution, electronic transmission or republication) without prior written permission is strictly prohibited.