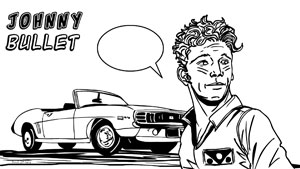 DC Comics
Blue Beetle #10 review
By Deejay Dayton
Jun 29, 2017 - 22:05
Publisher(s): DC Comics
Writer(s): Keith Giffen
Artist(s): Scott Kolins
Colourist(s): Romulo Fajardo, Jr
Letterer(s): Josh Reed
Cover Artist(s): Scott Kolins
$3.99 28 pages

Blue Beetle 10 contains the climax of the battle with Arion, the deranged former Lord of Atlantis, but not the end of that storyline.

It's a big action packed adventure, which manages to balance the roles of the old and new Blue Beetles, Jaime Reyes and Ted Kord, as well as giving strong moments to Dr. Fate, OMAC and Brother Eye, as well as the Flash from the 31st century. Remarkably, it does not feel crowded, nor do any of those characters feel like they were added without being adequately used. But then, Keith Giffen has been deftly handling large casts for a long time.

I've really been enjoying this run of Blue Beetle. I've been saying that for a few issues now, and I feel a bit like I am repeating myself. But I did find something new to comment on this time around.

I enjoy Scott Kolins art on this, but one thing I have never mentioned is the way that many of the pages are given patterned borders. There may or may not be some over-riding, Blue Beetle related reason for this. I have no idea. I do know that I find it pleasant to the eye, and it helps give the book a look unlike any other.

The conclusion of the issue is quite effective. I'm sure it will be a very minor spoiler to reveal that the villain gets defeated. One can almost always be certain of that happening, eventually. What makes this ending work well is that this does not prove to be a pure victory. The characters, particularly Jaime, are really in a much worse condition than they were before the triumph. It definitely makes one need to keep on going to the next issue.


© Copyright 2002-2018 by Toon Doctor Inc. - All rights Reserved. All other texts, images, characters and trademarks are copyright their respective owners. Use of material in this document (including reproduction, modification, distribution, electronic transmission or republication) without prior written permission is strictly prohibited.