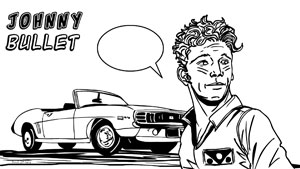 Comics News
Binquirer May 28 2014
By Hervé St-Louis
May 28, 2014 - 10:16
More Comics





Dry Spell


Ken Krekeler releases the first issues of his comic book

Dry Spell

today through Action Lab. In Dry Spell #1, desk-bound Tom Ferris gets a chance to go out a cape and a mask like many other costumed folks. This series is for mature readers only. Find it in local comic book stores.



Digital & Web Comics





Sequential


Japan-based Sequential released its iPad Sequential app allowing users to read graphic novels. You will find comics by the likes of Alan Moore, Eddie Campbell, and Jaime Hernandez. The app also has audio commentaries. Some of the comics are free. Find Sequential in iTunes.



Woody After Hours


If you like late night television, be sure to check Ben Carter and Paul Westover's

WAH – Woody After Hours

Web comic. It's the story of Woody, the host of WAH and his attempts at turning around his late night television show. You may recognize Paul Westover's work from the comic book industry parody Gutters.



Stop Paying Attention




Stop Paying Attention

is a reflective Web comic by Lucy Knisley that has been around since 2009. Its odd how such good material often falls off the radar. Anyway, Knisley draws this comic where she analyzes her life and her struggles. It's a bit neurotic but the artwork is entertaining.



LGBT Comics





Before You Go


Denise Schroeder has published

Before You Go

her first story about a lesbian couple. You can find it in Sparkler Monthly, a paid digital magazine featuring LGBT comics.



Curvy


Another Lesbian-themed comic is

Curvy

by Sylvan Migdal. Curvy is the story of a girl who stumbles upon the Lying Princess of Candy World. It sounds mad but it's fun to read. Follow the Web comic here.



Movies





Maleficent


The Wicked Witch from Sleeping Beauty gets an origin story. The Disney blockbuster production finally gives her a backstory. Angelina Jolie plays Maleficent with prosthetic high cheek bones not included. Maleficent comes to theatres on May 29th 2014 with a 3D version.

© Copyright 2002-2019 by Toon Doctor Inc. - All rights Reserved. All other texts, images, characters and trademarks are copyright their respective owners. Use of material in this document (including reproduction, modification, distribution, electronic transmission or republication) without prior written permission is strictly prohibited.