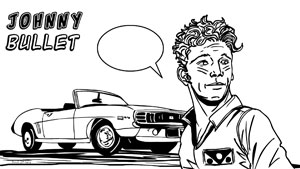 DC Comics
Before Watchmen: Ozymandias #2 Review
By Andy Frisk
August 13, 2012 - 21:46
Publisher(s): DC Comics
Writer(s): Len Wein
Penciller(s): Jae Lee
Colourist(s): June Chung
Letterer(s): John Workman
Cover Artist(s): Jae Lee
$3.99 US

Adrian Veidt, as Ozymandias, investigates, infiltrates, and destroys an illegal cocaine operation. He does so with all the panache, style, and impossible acrobatics and fighting skills that Bruce Wayne/Batman would. So what's the difference here? Not much, unfortunately. Well, he does quote some Percy Bysshe Shelley for us...

After a great opening salvo, which was packed with interesting philosophy, and gave us one of the most interesting and unique superhero origins of all time-all about one of the most unique and interesting superhero characters of all time, Len Wein completely reverts to simplistic superhero fisticuffs and acrobatics for issue #2. Ozymandias/Adrian Veidt is nothing more than a pompous Batman/Bruce Wayne in

Before Watchmen: Ozymandias

#2, and the story suffers for it. I understand that his superhero chops have to be established, but I just wish Wein did so in a way that fits the most intelligent man in the

Watchmen

universe. Ozymandias might be into busting up his dead girlfriend's drug pushers, but he's way too intellectual and powerful to be running around the mean streets. There's still four issues to go yet though, so maybe Wein will rebound the story for us. At least we have his first confrontation with a certain polar opposite

Watchmen

character to look forward to next issue, if the end of this one is any indication of next issue's direction...

There isn't much more that can be said that would heap any more praise on Jae Lee's art than has already been said countless times before, and said way better than I ever could. It's sublime. The only issue I have with anything artistic about

Before Watchmen: Ozymandias

#2 is with the choice of the cover image. I know that it's metaphoric and everything (don't worry, I'll spare you my literary dissertations-this time), but it really looks more like a ploy to get the adolescents in the local comic shop to pick up this book...one that they probably have no idea as to what it's about.

I'm not giving up on

Before Watchmen: Ozymandias

#2. I'm just hoping that it returns to form next issue.



© Copyright 2002-2020 by Toon Doctor Inc. - All rights Reserved. All other texts, images, characters and trademarks are copyright their respective owners. Use of material in this document (including reproduction, modification, distribution, electronic transmission or republication) without prior written permission is strictly prohibited.