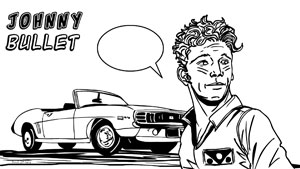 DC Comics
Batman #15
By Avi Weinryb
January 19, 2017 - 08:01
Publisher(s): DC Comics
Writer(s): Tom King
Penciller(s): Mitch Gerads
Inker(s): Mitch Gerads
Colourist(s): Mitch Gerads
Letterer(s): Clayton Cowles
Cover Artist(s): Stephanie Hans; Variant by Tim Sale and Brennan Wagner

Hot damn! Another superb entry in the new Batman series. Tom King hits this story out of the park, picking up where the unsettlingly sexy Batman #14 left off. In the latest installment, Batman and Catwoman awake from a passionate night together; their last before the Bat needs to lock up the Cat for having murdered 200+ people. But Batman knows she's innocent and has one lead that could help him crack the case -- or his skull. And the result of his pursuit is a stunning moment no-one will see coming. All I can say is that it looked painful…

King has a great sense of what makes the denizens of Gotham tick. From the superheroes to the cops, he knows how to weave characters throughout a pulsing plot, delivering not just a comic book but an experience.

This issue creatively revisits the character of Holly Robinson, a one-time Catwoman who was seemingly retconned out of existence. In this issue, Batman and Catwoman reminisce about how the two of them met, with Batman recalling their Golden Age encounter and Catwoman hearkening back to Frank Miller and David Mazzucchelli's "Batman: Year One". Holly's past appearance crops up but takes a new form in this issue, as an old confidant of Catwoman Selina Kyle.

Mitch Gerads does some fabulous work in this issue, taking the time to have some fun recreating art in the style of Golden Age Batman as well as some panels inspired by "Batman: Year One". This is of course in addition to the modern-day art in this issue, which captures everything from a heated love affair to gritty action sequences. Gerads is a versatile illustrator and his work is excellent. The knowing wink to past milestones in Batman history is a nice nod to fans.

While this two-parter comes to a dramatic conclusion, it will next be picking up where the previous arc left off; featuring the revenge of Bane. That's all well and good, but fans will first want to read about how Batman and Catwoman reach the current point in their lives. It's tumultuous, romantic and scary. All great ingredients for a Batman tale.
© Copyright 2002-2020 by Toon Doctor Inc. - All rights Reserved. All other texts, images, characters and trademarks are copyright their respective owners. Use of material in this document (including reproduction, modification, distribution, electronic transmission or republication) without prior written permission is strictly prohibited.