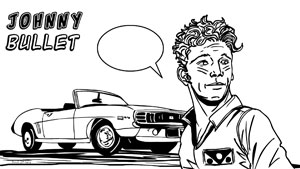 DC Comics
Batgirl and the Birds of Prey #9
By Paul Mason
April 14, 2017 - 10:36
Publisher(s): DC Comics
Writer(s): Julie Benson, Shawna Benson
Artist(s): Roge Antonio
Colourist(s): Allen Passalaqua
Letterer(s): Josh Reed
Cover Artist(s): Yanick Paquette, Nathan Fairbairn; Kamome Shirahama
$2.99



So this issue of Batgirl and the Birds prey with Black Canary entering Roulette's ring in a meta fight club undercover to find Blackbird. Which she does and continues her undercover role as Blackbird trains her in her meta abilities teaching Dinah "donna" how to best utilize her Canary cry.



In other words this issue opens with a trope and collects tropes throughout the tale. However there are two saving graces. One the charm and charisma of Black Canary which the art complements though out the issue making her appear younger which follows if I understand the Rebirth event correctly it implied a decade was stolen from the DC universe heroes lives but in exchange it set the chronological clock of their lives back de-ageing them. Hence it's sensible the Birds are younger than your father's Birds of Prey and the art does an excellent job emphasizing that and overall is not quite as sharp and bright as I'd like in this title, but lovely in its way.

The other birds do not even show up until the end but the fact there is two other DC heroes takes a little off that sting, and as I stated Black Canary is charming and capable of carrying a comic. However overall this comic felt a little like a pop left out that lost its fizz, I. E. It lacked a little sizzle.

© Copyright 2002-2020 by Toon Doctor Inc. - All rights Reserved. All other texts, images, characters and trademarks are copyright their respective owners. Use of material in this document (including reproduction, modification, distribution, electronic transmission or republication) without prior written permission is strictly prohibited.