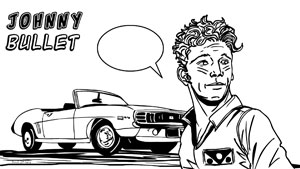 DC Comics
Batgirl #15
By Paul Mason
Oct 4, 2017 - 10:23
Publisher(s): DC Comics
Writer(s): Hope Larson
Penciller(s): Chris Wildgoose
Inker(s): Jose Marzan Jr.
Colourist(s): Mat Lopes
Letterer(s): Deron Bennett
Cover Artist(s): Dan Mora

Batgirl and Nightwing are in a hospital on the trail of The Red Queen . after a Brushup with some mind controlled people the comic flashes back years ago to Batgirl and Robin on a date, er stakeout, er date as it leads to going to a party undercover. Basically the timeline flips back and forth between Dick and Barbara working years ago and in the present with a dash of their romantic sub tones.

There is a relatively intriguing larger story arc behind the somewhat silly and juvenile issue. Larson knows her target audiende, namely young girls. For anyone outside of that demographic Batgirl can be a very frustrating comic to read. Mainly because the larger interesting story is buried under fluff.

The art is solid not spectacular and not annoying in it'd style or execution.


© Copyright 2002-2018 by Toon Doctor Inc. - All rights Reserved. All other texts, images, characters and trademarks are copyright their respective owners. Use of material in this document (including reproduction, modification, distribution, electronic transmission or republication) without prior written permission is strictly prohibited.