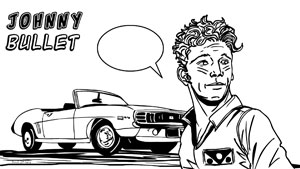 Marvel Comics
Avengers: The Initiative # 32
By Hervé St-Louis
March 8, 2010 - 21:25
Publisher(s): Marvel Comics
Writer(s): Christos N. Gage
Penciller(s): Mahmod Asrar
Inker(s): Rebecca Buchman
Colourist(s): Jay David Ramos
Letterer(s): Joe Caramagna
Cover Artist(s): David Yardin
$2.99 US

The Initiative is called in to fight Asgard and the Taskmaster thinks this is his opportunity to reach the higher levels of powers in the super human world, now that Norman Osborn has given him a Golden opportunity. Will he mess it all up?

This is a behind the scene story showing the motivation of the old Avenger villain and super villain trainer, the Taskmaster, for working closely with Norman Osborn and wishing he can get a piece of glory and his place in the sun like so many others before him. The Taskmaster is this old standby that everyone is familiar with. His gaudy uniform is similar in some respects to Deathstroke the Terminator. Yet, he's never been a fan favourite character. There's been a lot of exposure for the character in recent years, and it seems the writer wants to make a big push for the character. But his very characterization is what will continue to keep in the sidelines. It's not that he's not good at what he does. He is, but he's mostly boring nad has no real drive. There are no humph moment with the Taskmaster in this story, when when he foolishly thinks he can take on Thor. On the other hand the first account view of Diamonback is interesting, understanding that she once dates Captain America and thus is a good girl.

Asrar is a good artist with good storytelling skills that can weave a story with an exotic panel canvas without confusing the reader. Buchman's inks are complementary and solid and make this a very delightful comic book to read.
© Copyright 2002-2019 by Toon Doctor Inc. - All rights Reserved. All other texts, images, characters and trademarks are copyright their respective owners. Use of material in this document (including reproduction, modification, distribution, electronic transmission or republication) without prior written permission is strictly prohibited.