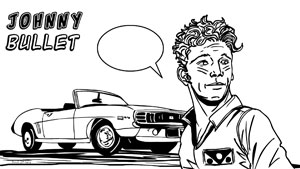 Marvel Comics
Alpha Flight One-Shot #1
By Hervé St-Louis
Nov 27, 2010 - 10:10
Publisher(s): Marvel Comics
Writer(s): Jim McCann
Penciller(s): Reilly Brown
$3.99 US

The four deceased members of Alpha Flight return to live to fight with their comrades against in the Chaos King. But their Sasquatch who bartered the return to life of his friends with the Great Beasts of the north. But which evil is the worse? Is helping the Great Beasts means the Alphans are supporting a potential threat to Earth?

This issue is a springboard that could help revive Alpha Flight and it was well written with a lot of inner team conflict that played out the loyalties of all characters against one another. It's surprising to say, but beyond the four members of Alpha Flight revived this issue, Vindicator, Guardian, Marinna and Shaman, as well as those who were nominally alive, all of them, including Northstar, Aurora, Sasquatch and Snowbird have died at one point or another. McCann does a great job when it comes to piecing the various parts of the characters' histories and understanding their characters. Again Vindicator – Heather Hudson shows she's the best leader this team has ever had and makes the tough choices when everyone else is paralysed. The one thing this issue does is deliver action. The fights don't stop at all and they even get more confusing when the Alphans are fighting each other over ideas. If this is a hint of what Alpha Flight could be as a series, I think we have a winner.

The artwork was not spectacular, but it did what it was supposed to do which is showcase the story well and clearly most of the times. As mentioned above some panels were not too clear. For example, there's a brief panel where Shaman fights Aurora, but I thought they shared the same opinions. Perhaps one thing that would help an Alpha Flight revival is the assigning a top level artist to the series, instead of regular artists like in this issue. Making a series work is often about investment from the publisher. If it's not willing to invest in the success of a series, then it will always be low seller. As this was but a one-shit, it didn't really matter. Still, the story has been set in motion for a revival. I like that.

P.S. Marvel Comics failed to list the proper credits of the creators for this comic book. It is a detrimental omission.


© Copyright 2002-2018 by Toon Doctor Inc. - All rights Reserved. All other texts, images, characters and trademarks are copyright their respective owners. Use of material in this document (including reproduction, modification, distribution, electronic transmission or republication) without prior written permission is strictly prohibited.