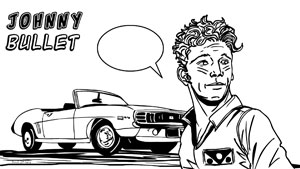 DC Comics
All-Star Batman #10
By Avi Weinryb
May 16, 2017 - 01:53
Publisher(s): DC Comics
Writer(s): Scott Snyder
Artist(s): Rafael Albuquerque
Colourist(s): Jordie Bellaire
Letterer(s): Steve Wands
Cover Artist(s): Rafael Albuquerque
$4.99

A rock-solid Batman tale featuring villains old and new – all told from the perspective of Mr. Alfred Pennyworth. By stepping into Alfred's shoes, we are afforded the opportunity to witness his take on current events as well as the past. Cutting between the two, readers are in for a surprise when a moment in the foggy London of yesteryear has an impact on the characters of today. Meanwhile, in the present, Hush is tearing up Miami and Batman's effort to stop his plans will require a visit by Bruce Wayne to the pirate lair of Blackbeard's descendant. The result is a scene that's literally heart-stopping.

Rafael Albuquerque is my new favorite Batman artist. His work is expressive and creative, bucking convention and allowing color, brushwork and pencils to smear across the page in an organic, flowing way that needs to be seen to be believed. His pages leap to life and portray action and emotion in equal measure. Paired perfectly with Scott Snyder's strong script and we've got a Batman book that earns its place in the pantheon.

A back-up tale features Bruce Wayne going deep undercover in a Russian mob (in Russia!) to track some weapons headed to Gotham. It's gritty, bloody and a lot of fun. Readers can look forward to part two of both this story as well as the main event. Written by Rafael Albuquerque and Rafael Scavone. Art by Sebastan Fiumara.

© Copyright 2002-2020 by Toon Doctor Inc. - All rights Reserved. All other texts, images, characters and trademarks are copyright their respective owners. Use of material in this document (including reproduction, modification, distribution, electronic transmission or republication) without prior written permission is strictly prohibited.