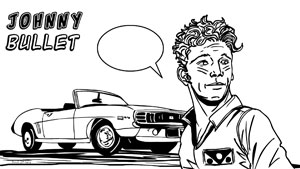 DC Comics
Teen Titans #15
By Paul Mason
December 30, 2017 - 13:54
Publisher(s): DC Comics
Writer(s): Peter J Tomasi, Patrick Gleason
Penciller(s): So Benes, Jorge Jimenez
Colourist(s): Dinei Ribero, Alejandro Sanchez
Letterer(s): Corey Breen
Cover Artist(s): Francis Manpul
$3.99

The art in this comic is beautiful. Almost like a fine artist painstakingly painted the panels.

After last issue the teen titans are laid out unconscious and robin rescues Jon.
The two talk about Tim Drake and his presumed targeting Jon.

There is some timeline jumps in this comic including a possible future.

Overall an interesting comic and Robin as Teen Titans leader these days may be at his least annoying.
© Copyright 2002-2020 by Toon Doctor Inc. - All rights Reserved. All other texts, images, characters and trademarks are copyright their respective owners. Use of material in this document (including reproduction, modification, distribution, electronic transmission or republication) without prior written permission is strictly prohibited.