Cigarette Girl manga review

By Leroy Douresseaux
May 28, 2017 - 20:35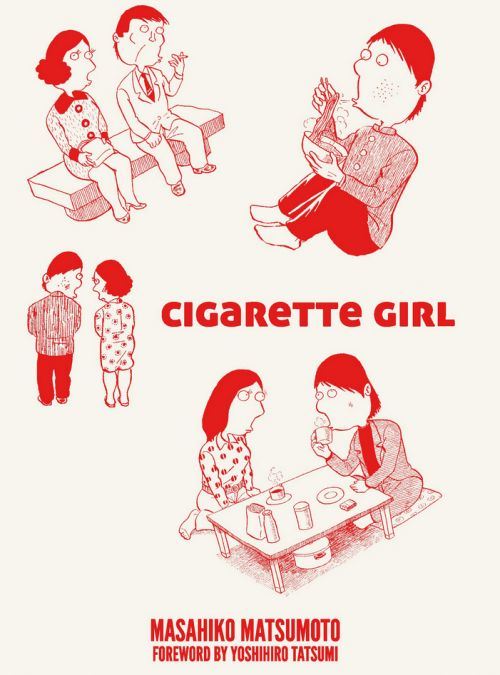 Cigarette Girl cover image
Cigarette Girl
is a trade paperback collection of manga short stories from the late manga creator,
Masahiko Matsumoto
(1934 to 2005). This book contains 11 stories (with some of them broken into chapters) that were published in several Japanese manga magazines over a period from 1972 to 1974.
In these stories, a shared cigarette offers a momentary connection between a salesgirl and a lonely young man, who buys cigarettes simply as an excuse to see the "Cigarette Girl." A closet hides the evidence of an embarrassed bachelor's laziness, and his shyness is the thing that keeps this bachelor,
Asanuma
, a virgin.
Toki
sells condoms as a door-to-door salesman, as she tries to be "Happy-Chan." A single woman, not getting any younger, sifts through letters from would-be husbands. And "Naruko Tsurumaki's Love" is his dog, more so than the woman who wants to marry him.
THE LOWDOWN:
Masahiko Matsumoto was apparently the manga equivalent of a alternative-comics creator. His simply drawn cartoons and comics have more in common with the leading lights of the American alternative and small press than they do with the highly-polished creations seen in Japan's Weekly Shonen Jump.
Matsumoto's stories are blunt and unsentimental at the same time that they are gentle and endearing. They depict a balance of life that is sweet and sour/pungent, but regardless of what aroma or flavor characters get, they got to keep on going. It is this matter-of-fact simplicity that makes these stories of modest city-dwellers, determined women, and goofy and selfish men fun to read.
Not all of the stories work; some of are awkward. "Naruko Tsurumaki's Love" is annoying because everyone in the story is annoying. "To Somewhere" misses the mark on being spontaneous and romantic. I am not even sure that it could have ever had the spark that one would expect from a story about a young couple just throwing fate to the wind. Ultimately, I would say that Cigarette Girl is a collection for readers looking for... let's see... if we can use the term "world music," then, how about a niche called "world alt-comix?"
I READS YOU RECOMMENDS
: Fans of off-beat comics, alternative or atypical manga will want to try
Cigarette Girl
.
This book includes the following text pieces:
An introduction by Sean Michael Wilson
A foreword by the late Yoshihiro Tatsumi
Biographical notes written by Mitsuhiro Asakawa
Support this writer on Patreon
Last Updated: Jun 26, 2018 - 9:28