Webcomics / Johnny Bullet Comic
Johnny Bullet #110 Comic
By Hervé St-Louis
February 19, 2017 - 22:23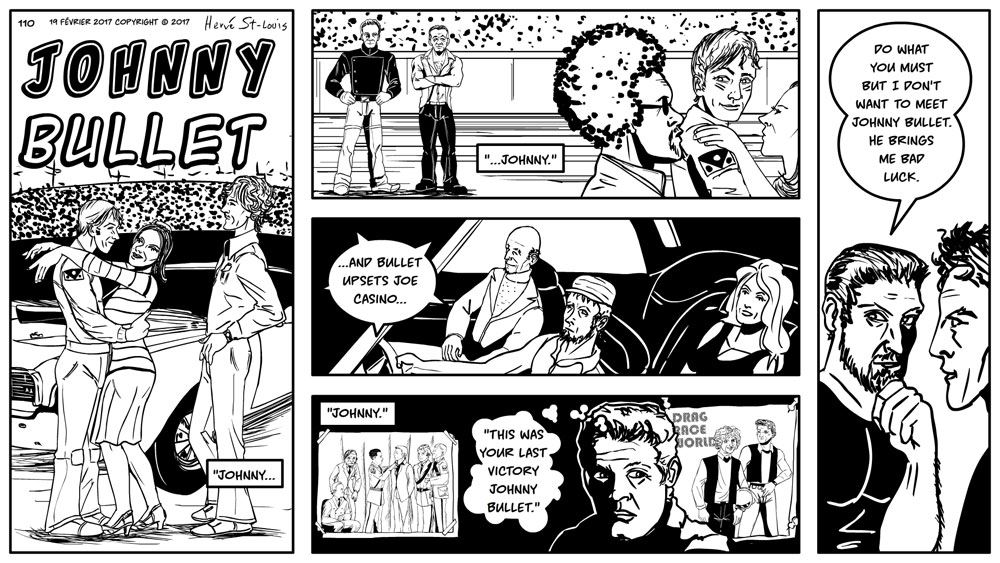 Subscribe to Johnny Bullet through RSS
Patreon


Subscribe to the Johnny Bullet Newsletter
Email me!
Written by : Hervé St-Louis
Pencilled by : Hervé St-Louis
Inked by : Hervé St-Louis
Letterered by : Hervé St-Louis

This last strip of chapter five. To really understand this strip, you may want to read several strips from the past and the bonuses strips too.
One issue that I have with modern comics and entertainment in general is that nowadays everything has to be explained in details for readers to enjoy something. Although I started Johnny Bullet really simply, many layers have just been added without me really trying, and now with this page, readers need to have paid attention to many details to figure out everything.
But if you have, everything is there it should be worthwhile!
Thanks for visiting again.
Hervé
Last Updated: September 10, 2021 - 09:13
Join the discussion: