Webcomics / Johnny Bullet Comic
Johnny Bullet #70 Comic
By Hervé St-Louis
April 17, 2016 - 22:07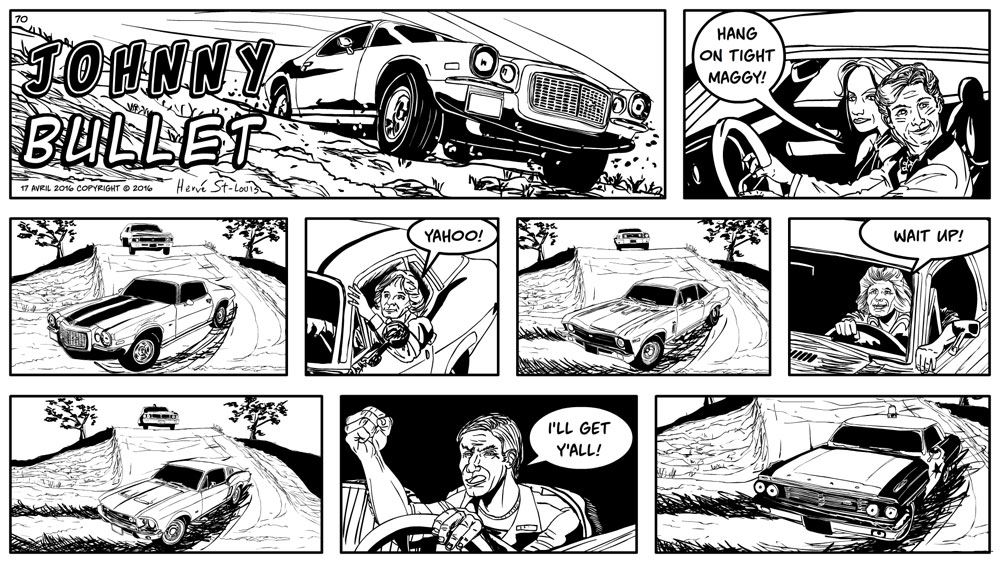 Subscribe to Johnny Bullet through RSS
Patreon


Subscribe to the Johnny Bullet Newsletter
Email me!
Written by : Hervé St-Louis
Pencilled by : Hervé St-Louis
Inked by : Hervé St-Louis
Letterered by : Hervé St-Louis

Thank you for visiting Johnny Bullet this week. Like any new page I draw, I always think the latest it my best! Well this one has the most panels ever and it doesn't even feel crowded! Observant readers might have noticed that new page layouts since the new chapter began with Johnny Bullet #67. Well, if you did notice, you are not mistaken.
Every chapter somehow a background theme comes out without me really planning it. Chapter one (pages 1-22) was the basic set up with the raw energy of everything being new and me trying to cram as much action and suspense as possible.
Chapter two (pages 23-44) was about racing, cars, and also adding background to Johnny's relationships with others. It was the first display of the full street/drag racing that is supposed to be the theme of this comic but was quickly glanced over in the first chapter.
Chapter three was about Cross Roads but also building credible women in the comic. Women did not feature much in the first two chapters. We did learn more about Donnie's complicated relationship with Johnny in chapter w but it was brief. In chapter three, I wanted to make all the women, whether they are dating Johnny or not fully developed.
So in chapter four, starting with page 67, I'm trying to explore more layout and composition avenues while still staying within the Sunday comic strip genre.
Thank you for being here. I'll see you next Sunday, April 24, 2016.
Hervé
Last Updated: August 4, 2023 - 09:22
Join the discussion: